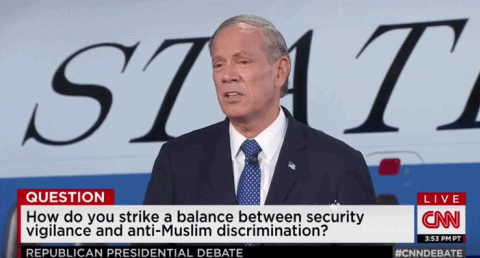 George Pataki will reportedly quit the race for the White House on Tuesday evening in a televised announcement.
Pataki, who served as New York Governor from 1995-2006, failed to make any of the GOP's main stage debates in 2015 as a result of his anemic national poll numbers.
MSNBC commentator Rachel Maddow has previously speculated that Pataki was "not really running for president" because he missed several key filing deadlines to appear on primary ballots in states like Florida and Ohio.
Pataki announced his bid for the presidency in May. He told supporters of his plan to suspend his campaign on Tuesday.
Dave Currier, a former New Hampshire state senator who was supporting Mr. Pataki, was told by the former governor of his decision. And Mr. Pataki himself plans to make an announcement Tuesday night on NBC affiliates in Iowa, New Hampshire and South Carolina, three states that are holding their contests in February, his campaign said.
His withdrawal from the race leaves 12 Republican candidates still in the field at the battle heads toward its first contest, the Iowa caucuses, which are just a month away. […]
Mr. Pataki was one of the earliest and most persistent critics of Donald J. Trump, but his own brand of blue-state Republicanism failed to secure him a distinctive space in a crowded presidential field. He struggled to raise money and watched as Republican governors of more recent vintage, led by Chris Christie of New Jersey, outflanked him in New Hampshire.
Mr. Currier said the former governor had described his decision as a matter of resources: with money low and few campaign staff, Mr. Currier said the Pataki effort "didn't have the resources here to really put it together."