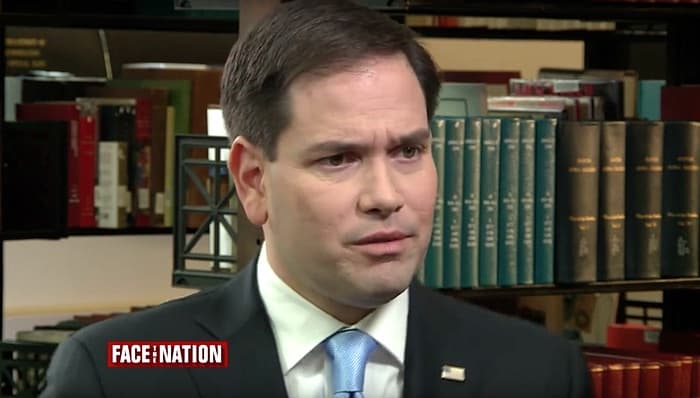 Republican presidential hopeful Marco Rubio appeared on Face the Nation today and complained to host John Dickerson about being called a bigot despite the fact that he opposes treating gay and lesbian people equally.
Said Rubio:
"You have a country where people are told, this is a country where you're going to be judged on your merits and on your hard work, and that is not happening. Increasingly, Americans feel out of place, because it seems like the people who have access to power and influence win. And everybody else is left on the outside looking in….And then people that hold traditional values are often described as bigots and haters."
DICKERSON: Who calls them that?
RUBIO: Oh, my gosh, everybody on the left does. For example, if you do not support their definition of marriage…
DICKERSON: But, I mean, the word bigots and haters, everybody…
RUBIO: Absolutely.
DICKERSON: So, the president? Who is calling them that?
RUBIO: Well, certainly, the president has on occasion said that people that don't support same-sex marriage are wrong. But in terms…
DICKERSON: But wrong is different than bigot.
RUBIO: Well, but in the broader left, I have been called a bigot for not supporting the definition of marriage.
Rubio recently promised that as president he would reverse Obama's LGBT executive orders that stop religious business owners from discriminating against gays, appoint conservative SCOTUS justices who don't believe that gays have the right to marry or that women have rights over their own bodies. He also said any transgender rights laws regarding bathroom usage have got to go.
If that's not bigotry, I'm not sure what is.