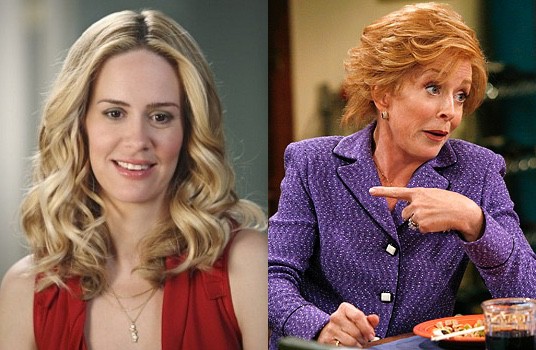 Actresses Sarah Paulson is dating Holland Taylor, who came out of the closet earlier this week in an interview with WNYC, gossip media reported last night.
"A source tells Us that Holland, 72, and Paulson, 40, have been dating for at least six months and the relationship is getting serious," Us Weekly writes. People magazine reported on the couple as well.
Taylor was mum about the details of the relationship in her interview but said there was an age difference:
"I'm sure [that] shocks a lot of people, and it startles me. But you know, it's not a statement original to me — I've heard it as a joke once in my past, but as they say, 'If she dies, she dies.' . . . She thought it was funny when I said it too….She's mentioned [marriage] because just from a spiritual point of view, from a heart point of view, as a — as a — as a deed that has a very rich symbolic gesture to it, it has its attraction. But it's been a very casual conversation at this point. But it's not — it would be a very private thing. I would not do that publicly. But as a symbol, as a pledge, as a plighting one's troth I would see it — that it would be a wonderful thing to do."
Paulson is starring in the upcoming Ryan Murphy drama American Crime Story: The People vs OJ Simpson, as prosecutor Marcia Clark. The trailer debuted yesterday. Watch it HERE.