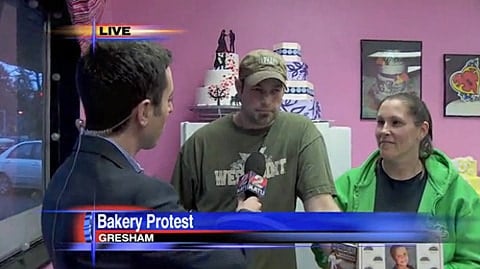 Aaron and Melissa Klein, the owners of Sweet Cakes by Melissa, who were fined $135,000 by the Oregon Bureau of Labor and Industries (BOLI) after a lesbian couple pursued and won a discrimination case against the bakery for denying them services, have finally paid their fine. The Kleins made national news after the couple denied lesbian couple Rachel and Laurel Bowman-Cryer a wedding cake over religious beliefs.
The Bureau of Labor and Industries says Aaron Klein, co-owner of the Portland-area bakery, dropped off a check Monday for $136,927.07. That includes accrued interest. Klein also paid $7,000 earlier this month.
The Kleins had been refusing to pay the damages for nearly six months and the Klein's attorney had requested a stay with the Oregon Court of Appeals, arguing the fine would ruin the couple's business, despite the fact that supporters of the bakery have donated nearly $500,000 to the couple.
BOLI Comissioner Brad Avakia denied the Klein's attorney's request and noted that the couple's massive donations are currently held in escrow. 
The Kleins were granted all-star status alongside fellow anti-gay martyr Kim Davis at the Values Voters Summit in Washington, D.C. this year. They were present when Kim Davis received Family Research Council's Cost of Discipleship Award from FRC Action President Tony Perkins.