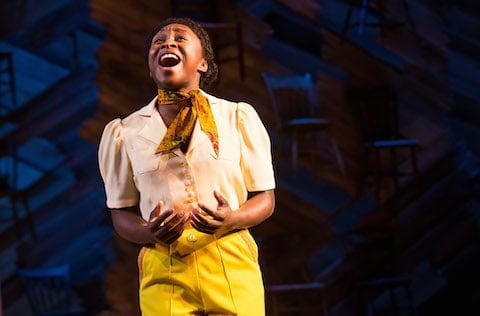 There is a stop-everything moment around three-quarters of the way through The Color Purple, which opened in a rousing new production at the Bernard Jacobs Theatre last night. It's a necessary pause to marvel at the mind-blowing breakthrough performance of the musical's star, Cynthia Erivo — a chance for the breathless to catch their breath. At the performance I attended, folks managed to gulp in enough air to holler as they leapt to their feet.
Erivo, who transfers with the production from London's Menier Chocolate Factory, would be reason enough alone to revisit this not altogether unproblematic musical based on Alice Walker's 1982 book and the 1985 movie starring Oprah Winfrey (a producer on this show). Featuring music and lyrics by Brenda Russell, Allee Willis, and Stephen Bray and a book by Marsha Norman, the musical first premiered on Broadway in 2005 and ran until 2008 in a large-scale, muddled production and was less than well received.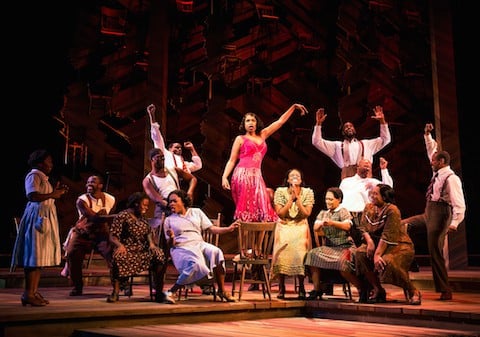 But director John Doyle, who's won acclaim for pared-down stagings of big musicals (including Sweeney Todd and Company), here whittles it down to its essentials (namely, its characters) and tells Walker's decades-spanning story with the help of just a few sheets, baskets, and a dozen or so wooden chairs. The result is captivating, intimate, and wholly affecting.
Sisters Celie (Erivo) and Nettie (Joaquina Kalukango) are separated when Celie is married off to the abusive Mister (Isaiah Johnson). But Celie eventually finds allies in the unfiltered Sofia (Danielle Brooks) and a sultry old flame of Mister's (among others), Shug Avery (Jennifer Hudson), with whom she ultimately falls in love. The story snaps quickly between oppressive violence (inflicted by men upon women) and sly humor, and the score often paints dark pictures with bright hues.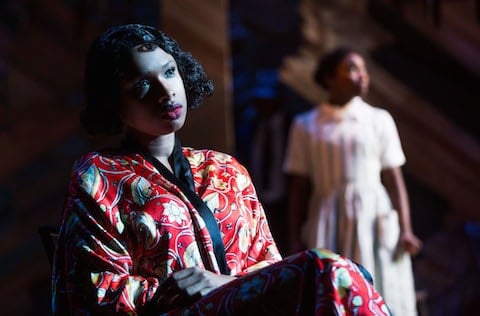 Brooks, known for her role as Taystee on Orange Is the New Black, is suitably cast as a scenery-chewing Sofia, whose no-bullshit attitude nets her both hearty laughs and grave consequences. You may be used to forgiving Hudson her less than inspired acting chops for the incredible artistry of her voice, and you'll likely do so again here, particularly when she teams up with Erivo on a rafter-quaking duet about the nature of true love.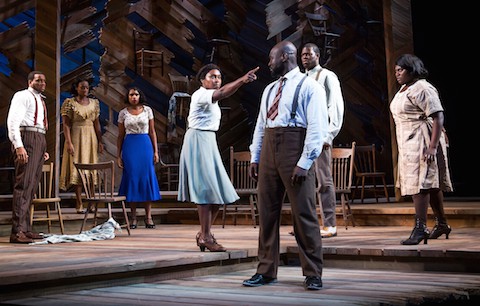 But it is Erivo who is the show's emotional anchor. At times it seems as though every detail of the story is written in the expression on her face, which somehow finds a place to settle between hope and resignation, before bursting out in triumph (see above and cue the ovation). It is a thrill to witness a star this gifted in a role that gives her every chance to shine and a production that lets her do just that.
Recent theatre features…
Al Pacino Opens in 'China Doll' on Broadway: REVIEW
Andrew Lloyd Webber's 'School of Rock' Musical Blares Onto Broadway: REVIEW
George Takei Talks Racism, Coming Out, and Fulfilling His Life's Mission on Broadway: INTERVIEW
Bruce Willis and Laurie Metcalf Open in 'Misery' on Broadway: REVIEW
Taylor Mac Talks Gender, Acting, and Groundbreaking New Play, 'Hir' —INTERVIEW
Gloria Estefan Musical 'On Your Feet!' Congas Onto Broadway: REVIEW
Follow Naveen Kumar on Twitter: @Mr_NaveenKumar (photos: matthew murphy)