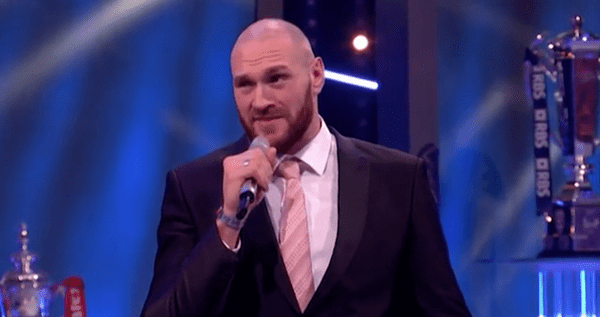 British boxer Tyson Fury has apologized for anti-gay remarks in a vague statement given at the BBC Sports Personality of the Year awards in Belfast.
Fury told the assembled audience and viewers at home, "If I've said anything in the past that's hurt anybody, I apologize." The apology was only given after being prompted by one of the awards ceremony's hosts. The BBC reports:
Some of the 7,500 audience at the SSE Arena booed Fury's name as it was read out as one of the 12 in contention for the Sports Personality award.
The Manchester boxer, who outpointed Wladimir Klitschko to become heavyweight champion last month, finished fourth in the vote, which was won by tennis player Andy Murray.
Fury caused controversy over derogatory remarks he made about women, and for criticising homosexuality and abortion.
Asked about his remarks by Gary Lineker in a live on-stage interview at the Belfast event, Fury said: "I've said a lot of stuff in the past and none of it with intentions to hurt anybody.
"It's all very tongue in cheek, it's all fun and games to me. I'm not a very serious kind of person – it's all very happy-go-lucky with Tyson Fury."
Fury's supposedly "tongue in cheek" remarks that he's apologizing for compared homosexuality to pedophilia. Fury said in a November interview,
"There are only three things that need to be accomplished before the devil comes home. One of them is homosexuality being legal in countries, one of them is abortion and the other one's paedophile.
"Who would have thought in the 50s and 60s that those first two would be legalised? When I say paedophiles can be made legal, that sounds like crazy talk doesn't it?
"But back in the 50s and early 60s, for them first two to be made legal would have been looked on as a crazy man again."
We're not sure how any of that could be classified as "fun and games" or not "serious."
Over 140,000 people signed a petition calling on the BBC to remove Fury from contention in the awards contest, which the BBC ignored. In fact, the BBC went on to suspend one of its journalists who was critical of the media organization for nominating Fury.
40 protestors were reportedly on hand outside the trophy ceremony in Belfast to show their displeasure with the BBC's decision.
Watch video of Tyson trying to make nice, below: