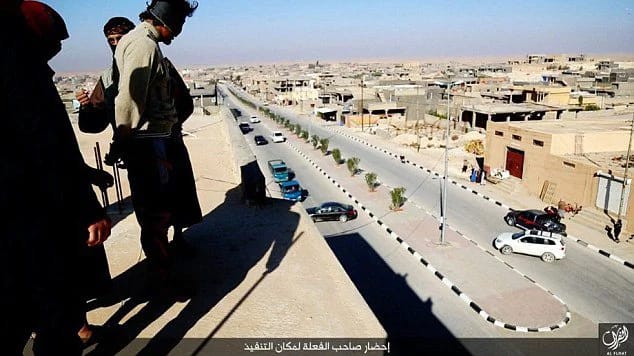 ISIS has reportedly killed another man for being gay by hurling him from a building as a crowd of onlookers gathered on the street below.
The Islamic State released photos of the lead up to the execution as well as the execution itself, claiming the man had been found guilty of homosexuality, a crime punishable by death in Sharia law.
The execution took place in al-Furat province in northern Iraq according to the terror group.
The victim, who has not been identified, is shown being led up a set of stairs towards the roof of a tall building.
Blindfolded and hands bound, the prisoner is made to stand on the edge of the roof while several guards watch on.
On the ground, a large crowd of civilians and fighters can be seen waiting for the horrific punishment to be carried out. The victim is shown being pushed off the building to his death.
Activist group OutRight (formerly The International Gay and Lesbian Human Rights Commission) has in the past stressed the importance of not assuming that individuals whom ISIS has executed for being gay actually identified themselves as gay:
"…it is also important to note that we have very little information on the executions themselves. Indeed, despite our efforts, and those of other independent observers, neither the accusations nor the exact nature, time, and location of the executions can be corroborated. We know nothing about the victims' sexual orientation or gender identity. Without evidence or independent confirmation, we must therefore be cautious about assuming anything about the individuals involved.
Back in August, gay men who had escaped from ISIS-controlled territories spoke to the UN Security Council about the horrors and brutalities faced by gay men living under the terror group's oppressive yoke.
Just earlier this month, ISIS reportedly executed a teen who had been raped by an Islamic State official. The official was only demoted but not sentenced to death.