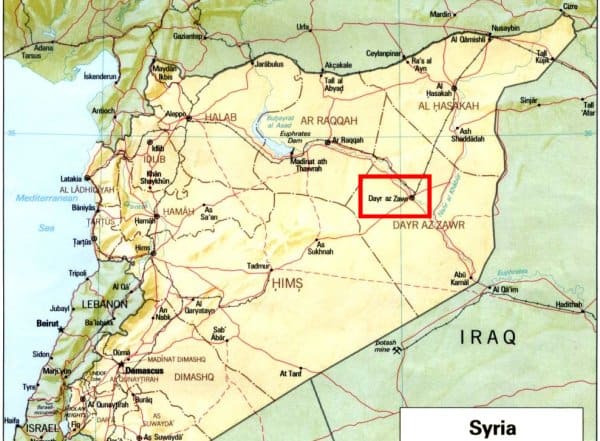 The Islamic State has executed a 15-year-old boy for being 'gay' according to the Syrian independent press agency ARA. The teen was thrown from a roof in Deir ez-Zor after being discovered engaged in a sexual act with an ISIS leader.
ARA reports:
"The horrific execution took place in front of a large crowd," a local media activist and an eyewitness told ARA News in Deir ez-Zor. An informed source reported that the victim was captured "in the house of an ISIS leader" earlier on Thursday.
"The boy was accused of being engaged in a homosexual relation with the prominent ISIS officer Abu Zaid al-Jazrawi," media activist Sarai al-Din told ARA News.
While the boy was executed, Abu Zaid was expelled to Iraq after being deprived of his position.
"Abu Zaid was forced to leave Syria and join the fighting fronts in northwestern Iraq. The decision has been taken by the ISIS leadership," al-Din said.
Rather than be executed, ISIS commanders demanded that the Sharia Court instead send Abu Zaid to fight battles in Iraq, because of the heavy losses suffered there, according to ARA.
Said civil rights activist Raed Ahmed to ARA News: "Daesh accuses people of being gay only on basis of some superficial information without any investigation. Although the Islamic law bans homosexuality, but the brutal punishment by Daesh has never been witnessed throughout history."
In October, international terrorism watchdog group Terror Monitor published a set of gruesome photos which reportedly showed two men stoned to death for being gay in Aleppo, Syria. The Islamic State group (ISIS) is said to be responsible.
In early October, reports came in that two 'gay' men were thrown from roofs in Mosul while another two victims were thrown to their deaths in the ancient city of Nineveh. And in late September, nine men and a teen were reportedly executed in Aleppo and Homs provinces for being gay.
Over the past year there have been many reports of ISIS executing men for being gay, sometimes beheading them, usually by throwing them off of rooftops and then stoning them to death if they have not died from the fall.
In May it was reported that ISIS militants lured men into 'dates' after which they confront and then  murder them.