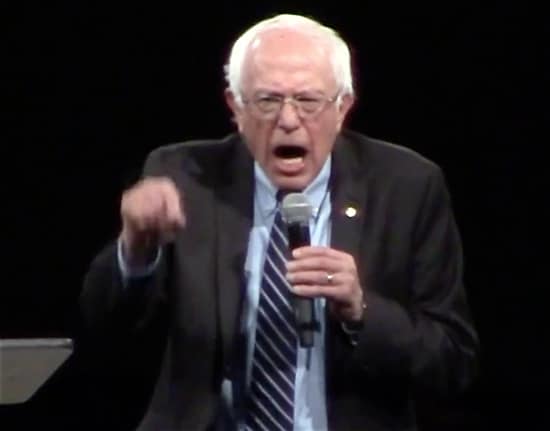 In response to the Human Rights Campaign's endorsement of Hillary Clinton for president this morning, the Bernie Sanders campaign ripped the nation's largest LGBT rights organization for making a decision "that cannot possibly be based on facts and the record."
The irate reaction came from Sanders campaign spokesperson Michael Briggs in an interview with the Washington Blade's Chris Johnson:
Touting Sanders as "somebody who's been for gay rights long, long ago" since he was mayor of Burlington, Vt., Briggs said Sanders as a U.S. senator voted against "Don't Ask, Don't Tell" in 1993 and he voted against Defense of Marriage Act in 1996. Briggs also cited Sanders' support in calling on the U.S. Supreme Court to overturn DOMA.
Recalling Sanders support for civil unions in Vermont when it became the first state to enact them in 2000, Briggs said Sanders was "a pioneer on this early version of gay marriage, and has by far the most exemplary record on gay rights of any candidate ever in American history."
DOMA, of course, was signed into law by Bill Clinton as was the military's "Don't Ask, Don't Tell" policy.
In recent months, Hillary Clinton has defended the reasoning behind DOMA, telling Rachel Maddow that the legislation was a "defensive action" to prevent a federal marriage amendment. However, as many critics and opponents have pointed out, there was no federal marriage amendment in the works at the time.
When asked to respond to criticism over her position, Clinton told Maddow in a later interview during a candidate's forum that the conversations about such an amendment were private, not public knowledge, and then moved on quickly.
"Well, certainly, in thinking back on it, those were private conversations that people did have. And I am more than willing to say, again, that was something that came up in private discussions that I had. The important thing is: DOMA is gone."
As the Blade notes, Hillary "supported DOMA through her 2000 campaign for a U.S. Senate seat in New York and backed only repealing Section 3 of the law during her first presidential campaign."
Briggs expressed bafflement at how HRC makes its decisions and said he felt certain that LGBTQ voters across the U.S. would make the right decision based on who has been a better "champion" for them over the years.
HRC spokesman Brandon Lorenz told the Blade that the decision to endorse Clinton was unanimous among the organization's board, stressing her "strong record," "strong agenda," and "strong ability to win against any Republican running on an anti-LGBT platform."