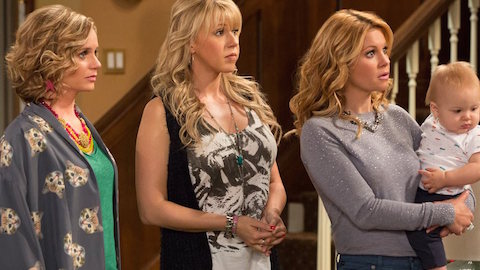 Fuller House star Candace Cameron Bure may have been outspoken about "religious freedom" on The View, but her TV counterpart DJ Tanner could feel otherwise.
Bure expressed her openness to the new series exploring storylines focused on same-sex couples at TCA yesterday.
"I'm always defending religious freedom and that's what I was talking about on The View," she said. "But, I'm an actress on a television show and I support all things that we go through as human beings and would love all our characters to explore whatever issues that are current in our culture and our society today and I'm 100% on board with that."
Producers told the crowd, while there arent' plans yet to include a storyline involving a same-sex couple on Fuller House, it was a possibility. This prompted questions for Bure, whose conservative opinions have put her in opposition to her out View co-host, Raven Symone.
Last year, Bure and Symone clashed over the bakery that refused a lesbian couple their wedding cake. Bure also received criticism for her interview with out Who's The Boss? actor Danny Pintauro when he appeared on the show to discuss his former drug abuse and living with HIV.
Will you be watching Fuller House when it premieres on Netflix Feb. 26?