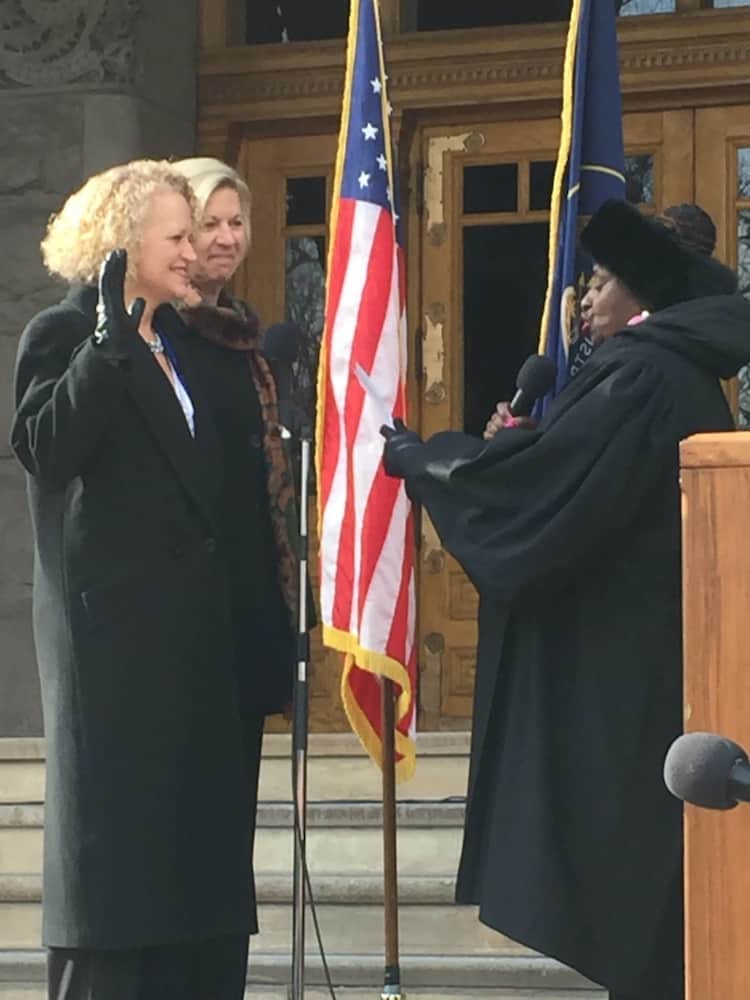 Monday was a historic occasion, to say the least, for Salt Lake City's LGBT community.
With her new fiancee at her side, former state Rep. Jackie Biskupski was sworn in as SLC's first openly LGBT mayor.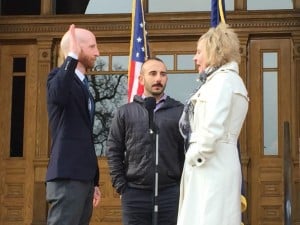 Meanwhile, with his husband at his side, Utah same-sex marriage plaintiff Derek Kitchen was sworn as the city's second sitting gay council member.
Utah, of course, is predominantly Mormon, and the Church of Jesus Christ of Latter-day Saints condemns homosexuality. However, Salt Lake City is a liberal oasis that is home to the seventh-highest concentration of LGBT people in the nation, according to a recent Gallup poll.
Biskupski is Salt Lake's second female mayor and the nation's only lesbian mayor of a large city, with Annise Parker leaving office in Houston. In addition to having fiancee Ann Iverson at her side, Biskupski touched on LGBT issues in her inaugural address Monday, according to the Associated Press:
In a speech on the steps of the city-county building after being sworn in, Biskupski cited a gay rights battle in Utah's capital city two decades ago that spurred her to enter politics.
After the city's East High School formed the state's first gay-straight alliance club in 1995, the Salt Lake City School District banned all noncurricular clubs to try to block it. The district reversed its decision several years later after lawsuits and protests.
"That sparked in me a responsibility to my own community," Biskupski said Monday.
After Biskupski became the state's first out lawmaker in 1998, she said her colleagues in the Legislature would avoid eye contact and refuse to shake hands, but she gradually earned their trust and respect.
Shortly after the November election, Biskupski got engaged to Iverson, according to a recent profile in The Deseret Morning News. Biskupski and Iverson, who each have an adopted son, have not set a wedding date.
Kitchen, a 26-year-old small business owner, and his husband, Moudi, were one of three same-sex couples who successfully challenged Utah's marriage ban in 2013.
"My involvement in this landmark litigation allowed me to become an advocate for equality and fairness in our city and state," Kitchen said in announcing his council bid last year. "For that I am very grateful."