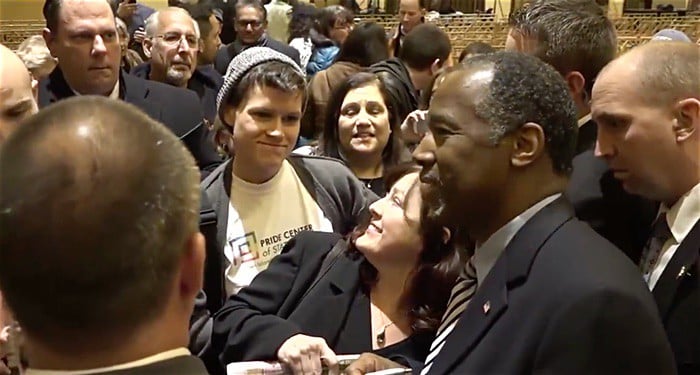 Republican presidential hopeful Ben Carson was confronted by an attendee at a Staten Island town hall on Monday night. The attendee, who wore a Pride Center of Staten Island approached Carson as he was having photos taken.
"I have a quick question," the attendee asked, getting Carson's attention. "Do you think I chose to be gay?"
"Did you choose to be gay?" Carson responded.
"Yes, do you think I chose to be gay?", asked the attendee, throwing in Carson's face an assertion he has made many times.
"That's a long conversation," Carson replied.
"I think you're full of s–t," said the attendee.
"OK," was Carson's only response as he continued to pose for pictures.
Watch:
WATCH: @realBenCarson confronted at Staten Island town hall: "Do you think I chose to be gay?"https://t.co/gL3N7TXpO1

— ABC News Politics (@ABCPolitics) January 5, 2016