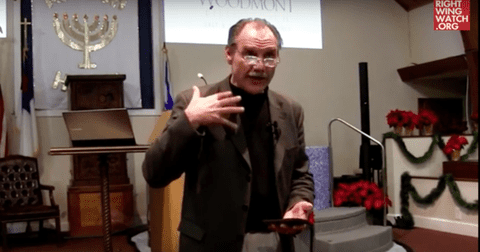 A Tennessee House committee is scheduled to take up a bill Wednesday afternoon that would undo marriage equality in the Volunteer State.
House Bill 1412, by GOP Rep. Mark Pody (above), would declare the U.S. Supreme Court's ruling in Obergefell v. Hodges "unauthoritative, void, and of no effect."
Pody says God spoke to him personally and told him to file the bill, because same-sex marriage is "wicked." The bill would cost the state an estimated $8.5 billion annually, according to legislative fiscal analysts. But on Tuesday, Pody said he was "undeterred" by the potential price tag, adding that the bill is "worth any cost," according to the Associated Press.
Also Tuesday, an anti-gay group rallied in support of the bill outside the Capitol, circling the building in a truck carrying a sign that read, "The Price of Tolerance: AIDS."
The same group, DefyTyranny.com, also hosted the event in December where Pody claimed the bill was divinely inspired.
Pody's bill compares the high court's ruling in Obergefell to previous rulings upholding forced sterilization and Japanese internment.
The Tennessee Equality Network has been encouraging marriage equality supporters to wear red to today's hearing of the House Civil Justice Subcommittee.
You can watch the hearing live beginning at 3 p.m. Central time by going here, then clicking on "View Event."