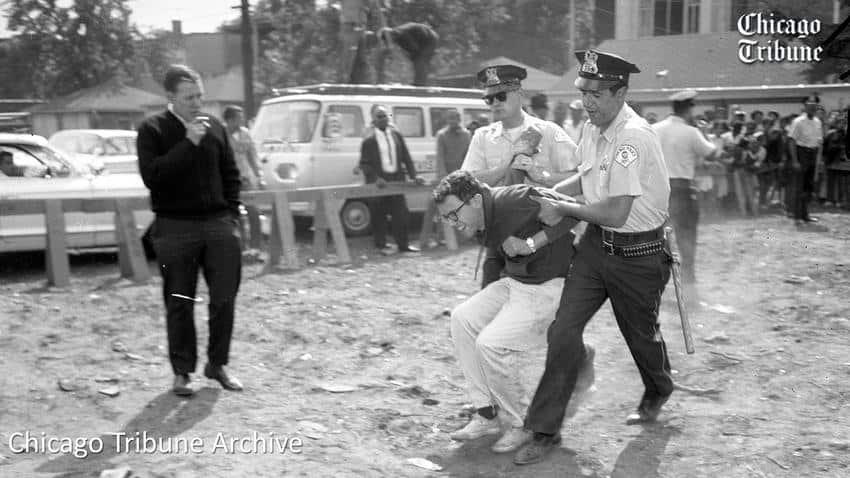 A photo from the Chicago Tribune archive and video said to show Bernie Sanders being arrested at a civil rights protest in Chicago has surfaced, published by Kartemquin Films, which is producing a documentary project about the 1963 Chicago Public School Boycott and modern education.
Writes Kartemquin:
Back in 2014, we asked people for help identifying this footage from 1963. It turned out to be an important protest in Englewood in the summer of 1963 at a site where Chicago Public Schools was planning to build an entire school out of Willis Wagons (mobile units) at 73rd and Lowe, between a railroad track and an alley. It was organized by parent Rosie Simpson and considered one of the major precursors to the great boycott in October, when over 200,000 students boycotted school in Chicago.
Last week, Mother Jones published an article about Bernie Sanders' participation in the Congress of Racial Equality (CORE) and activism at University  of Chicago. They included this newspaper clipping (right) from the Chicago Tribune, which states that 21-year-old Bernard Sanders was arrested at this same Englewood protest, at 74th and Lowe. He was later fined $25 for resisting arrest. So we looked back at our footage of the protest shot by Jerry Temaner, one of Kartemquin's co-founders, where we see a man with striking similarities to young Bernie Sanders being arrested. Is it Bernie Sanders? Help us to confirm it.
The Sanders campaign says it is Bernie:
The Sanders campaign has confirmed that a photo just found by the Chicago Tribune in their archives is in fact of Bernie Sanders. The acetate negative from the Chicago Tribune is of someone who looks just like the man in our footage and is dressed the same way. See the full gallery of Chicago Tribune photos from the 73rd and Lowe protest here.
Here's the footage:
The photo and video emerge just days before the South Carolina primary, where Sanders' rival Hillary Clinton is perceived to have an advantage with black voters.
Participation in the civil rights movement has become an issue in recent weeks:
When a reporter asked Lewis to comment on Sanders' involvement in the movement—Sanders as a college student at the University of Chicago was active in civil rights work—the congressman brusquely interrupted him. "Well, to be very frank, I'm going to cut you off, but I never saw him, I never met him," Lewis said. "I'm a chairman of the Student Nonviolent Coordinating Committee for three years, from 1963 to 1966. I was involved in the sit-ins, the freedom rides, the March on Washington, the march from Selma to Montgomery, and directed their voter education project for six years. But I met Hillary Clinton. I met President Clinton."
The preeminent civil rights hero's pooh-poohing of Sanders came at a press conference where the Congressional Black Caucus PAC announced its endorsement of Hillary Clinton for president.
Sanders was, however, an active participant in the movement in Chicago, as shown in this piece by Tim Murphy.