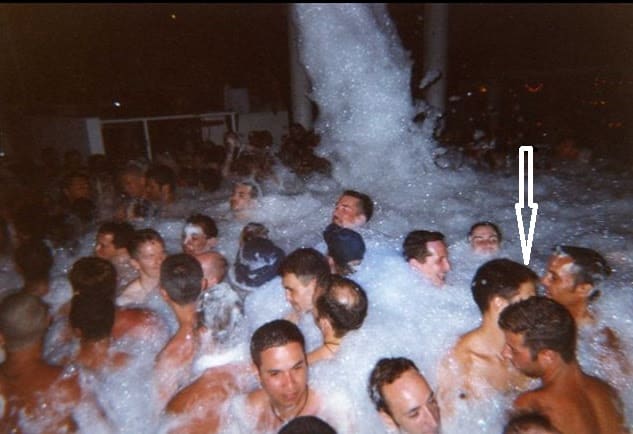 Marco Rubio's alleged gay past is the subject of a hit piece that's being widely circulated on Facebook that contains a lot of innuendo and some provocative photos allegedly of the Florida senator.
The post, by columnist Wayne Madsen published at Public Intelligence Blog, claims that "Marco Rubio was, as a high school and college student, known to be a very extroverted homosexual in both South Beach in Miami, a popular gay area, and at college in Gainesville, Florida."
The piece contains an alleged photo of Rubio (below) in 1989 "dancing and singing in a South Miami troupe that combined the Chippendales with The Village People."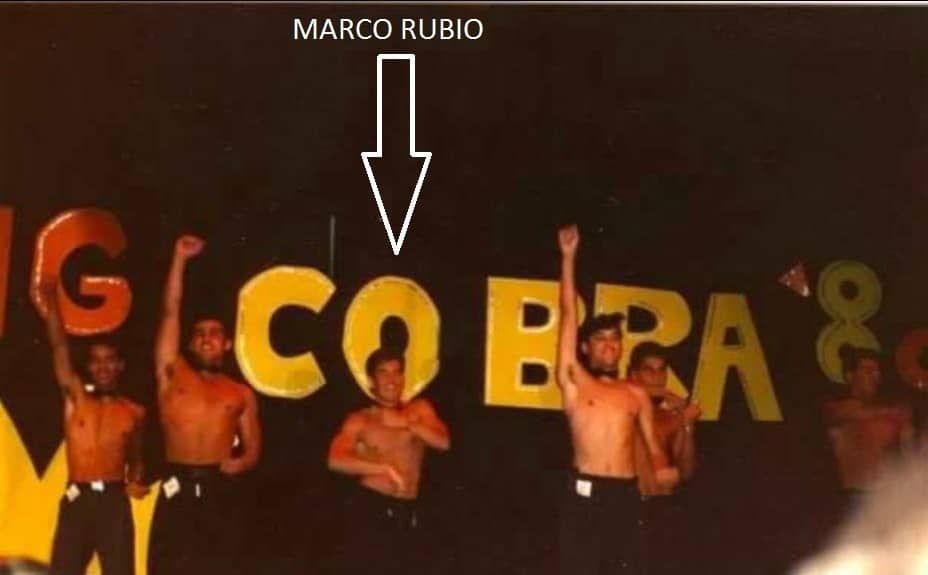 Another photo shows a gay foam party at the '90s South Beach gay nightclub Warsaw Ballroom, and show's a man's profile which Madsen says "is believed to be" Rubio. The face is obscured, so it really could be anybody.
In order to prepare for the University of Florida, Rubio attended Santa Fe Community College in Gainesville. Republican sources have told WMR that Rubio, Barrios, and two other students shared a townhouse in Gainesville that was known locally as a "coke house," where cocaine was readily available, as were almost non-stop parties in what amounted to an off-campus gay frat house. In 1987, Rubio's brother-in-law, Orlando Cicilia, was busted by the Drug Enforcement Administration (DEA) for his role as a key figure in a cocaine smuggling ring in south Florida.
After graduating from the University of Florida, Rubio attended the University of Miami Law School. In 1995, Rubio claims he met his wife, Miami Dolphins cheerleader Jeanette Dousdebes at a "foam party" in South Beach. There is one thing wrong with Rubio's story: foam parties in South Beach were almost exclusively gay events held at gay clubs like "Warsaw Ballroom" and "Amnesia," the latter name befitting some of Rubio's memories of his time in Miami.
The photo is accompanied by a juicy description from a 1995 Miami New Times article describing the foam parties at Warsaw and Amnesia.
There is one piece of Madsen's story that is accurate: "In 1989, a year before Rubio was arrested with his friend Angel Barrios and another unidentified male friend in Alice Wainwright Park in south Miami, ostensibly for drinking beer in a car after closing time in a park known as a pickup locale for gays."
The Miami New Times wrote about this incident last week, though Barrios, who was linked to Miami's most infamous gay porn case, denies that both he and Rubio are gay:
Decades after his legal run-in with Rubio, Barrios was associated with perhaps the most notorious gay porn ring in Miami history, an Edgewater house full of models with names like "Khali Kreme" and "Sincere Luv" who had sex all day in front of dozens of webcams. Couple that with the fact that the park where Rubio was arrested was a well-known gay cruising spot and lurid rumors — with no basis in documented fact — have blown up all this week on the internet, eagerly stoked by Donald Trump supporters casting Rubio as a closeted homosexual. Right-wing conspiracy monger Alex Jones devoted a five-minute segment to the allegations yesterday, while posts on the claims have been heavily upvoted on a Reddit page for Trump supporters.
"I have nothing against gay people, but this is just so far from the truth," says Barrios, who laughs out loud at the idea of having had a sexual relationship with Rubio. "I have kids, and now they're reading all this garbage online. It's insane."
In any case, it appears that the right has gone full throttle behind-the-scenes on bringing down Rubio as a closeted gay, with more than just cha-cha heels.