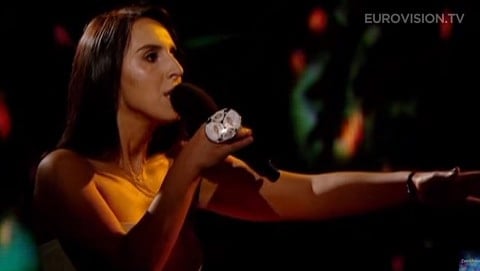 Ukraine has provoked the ire of Vladimir Putin by selecting an "anti-Russia" song for this year's Eurovision.
During last weekend's National Song Contest, the Ukrainian public selected the song "1944" by Jamala to represent the country in May. It is thought that "1944" refers to Putin's interventions in Ukraine and a Russian purge of the Tatars in the 1940s.
The Eurovision song contest has a ban on overtly political songs. In 2009, Georgia withdrew from the contest following alleged pressure from Russia to remove lyrics from the song "We Don't Wanna Put In." It was argued at the time that "…Put In" was a – duh – reference to Putin.
The lyrics for 1994 are a touch more to the point:
"When strangers are coming, they come to your house
"They kill you all and say We're not guilty, not guilty.
"I couldn't spend my youth there
Because you took away my peace.
"Where is your heart, humanity rise
You think you are gods, ha, but everyone dies
Don't swallow my soul, our souls."
Although there have been calls from some fans to ban the song, Crimean Tatar leader Mustafa Jamilev told the Guardian: "There is no mention there about occupation or other outrages that the occupants are doing in our motherland; nevertheless it touches on the issue of indigenous people who have undergone horrible iniquities."
Last week a change to voting procedures was announced for this year's contest.
Watch Jamala's performance from last weekend below.