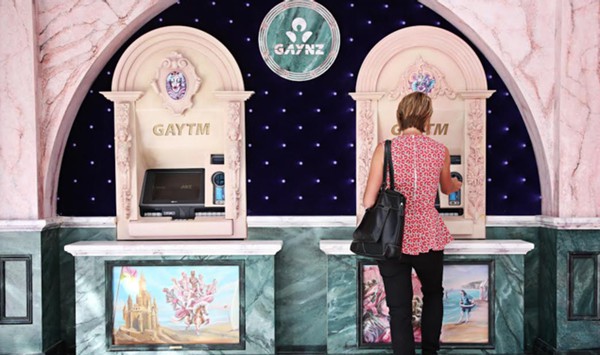 In celebration of its 10th anniversary supporting Sydney's Gay and Lesbian Mardi Gras, ANZ Bank in Australia changed its name to 'GAYNZ' and completely redecorated its Oxford Street branch, and the results are…flamboyant.
Murals, stained glass, even a statue featuring two gay penguins.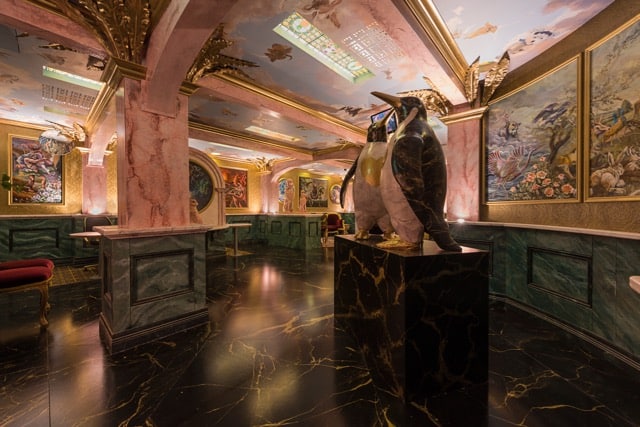 Completely reimagined inside and out, the GAYNZ branch is a baroque-inspired celebration of LGBTI culture. It features two new GAYTMs, ornate walls, a marbled floor and 16 unique, hand-painted murals inspired by the LGBTI community.
Says Mark Hand, chair of ANZ's Australia Division Diversity Council: "Diversity, inclusion and respect is an important part of what we do at ANZ so we are particularly proud of our partnership with Mardi Gras which started because our staff passionately believed in supporting the cause 10 years ago.
"Over the past few years we have had an incredible response to our GAYTMs, so it was only natural to take things to a new level to celebrate the milestone. GAYNZ is often used to describe us at Mardi Gras and we thought transforming the Oxford Street branch and naming it GAYNZ was a fitting way to demonstrate our continued support for the LGBTI community."
In a first for an Australian brand and a bank worldwide, ANZ is collaborating with Twitter to develop a rainbow coloured flag emoji, which will appear whenever #GAYNZ is used on the social media platform.
Watch the bank's transformation:
https://www.facebook.com/ANZAustralia/videos/956321251151980/
Wrote the bank on Facebook:
"Proud to share that our Oxford Street branch has come out… as GAYNZ for Sydney Gay and Lesbian Mardi Gras! See how the branch has been completely transformed, inside and out! Our #GAYNZ branch is inspired by Baroque art and architecture, which has influenced and been adopted by key LGBTI figures throughout history. From Liberace, to Dame Edna, to Gianni Versace – the elaborate flourishes of baroque have become a part of LGBTI iconography."