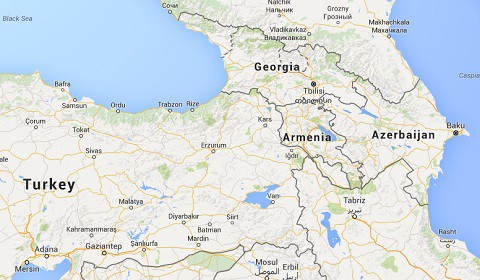 A lawyer in Georgia has made the first attempt to introduce gay rights in the conservative, largely Orthodox Christian Eurasian country.
In an appeal to the Constitutional Court to legalize same-sex marriage, civil rights lawyer Giorgi Tatishvili says restricting marriage to opposite-sex couples is against the constitution.
According to The Guardian, human rights activists have distanced themselves from Tatishvili's petition citing concerns that it could lead to a backlash in a country known for widespread homophobia.
Lasha Kavtaradze, spokesperson for the Human Rights Education and Monitoring Centre, said:
"In an environment where LGBT groups are virtually banished from the public space…it is all but science fiction to speak about gay marriage and request the constitutional court to weigh in on it."
In a statement, the Orthodox Church said it finds the idea of same-sex marriage "condemnable and completely unacceptable."
The Orthodox Church has, however, requested police presence for Tatishvili, fearing that any violence perpetrated against him would reflect poorly on the Church. Via Eurasia.net:
Georgia's vastly influential Orthodox Church requested on February 7 that Tatishvili be placed under police protection as his safety is at risk. Nearly three years ago, a mob led by priests violently scattered an anti-homophobia rally in the Georgian capital, Tbilisi, and the violence damaged the Church's reputation.
Its governing body, the Patriarchy, distanced itself from the violence then and has now spoken out against what it described as likely attacks against Tatisvhili.
"Although we find his initiative, let alone the passing of a [same-sex marriage] law, condemnable and completely unacceptable, acts of violence are also unacceptable," the Patriarchy said in a statement. Tatishvili has not responded.