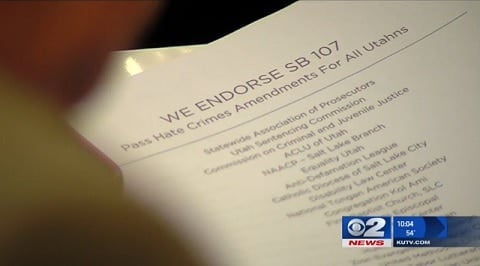 The Mormon church has issued a statement warning that a Utah bill to toughen penalties for hate crimes could "alter the balance" achieved by existing legislation protecting "religious liberty rights and LGBT rights."
Senate Bill 107 (Hate Crimes Amendments) defines a hate crime as any offense committed against a person because of their ancestry, disability, ethnicity, gender, gender identity, national origin, race, religion, or sexual orientation.
The statement from church spokesman Dale Jones reads:
"The Utah Legislature achieved something extraordinary last year in arriving at legislation that protected both religious liberty rights and LGBT rights. Interests from both ends of the political spectrum are attempting to alter that balance. We believe that the careful balance achieved through being fair to all should be maintained."
Without providing specific examples, another LDS spokesman said the bill -which passed out of committee last week and is now before the Senate – represents an attempt to alter that balance.
While some critics have said the bill would criminalize thoughts and goes too far, Sen. Todd Weiler, who voted against the bill in committee, worried that it might have come too soon after last year's legislation:
"What I think a lot of people are asking was, if they get hate crimes this year, then what are they going to be coming back next year for and then the year after that. I think that's certainly one of the factors at play here."
However, bill sponsor Sen. Steve Urquhart has said the legislation is a natural extension to LGBT rights.
Watch Urquhart speak with the Salt Lake Tribune on the issue below.