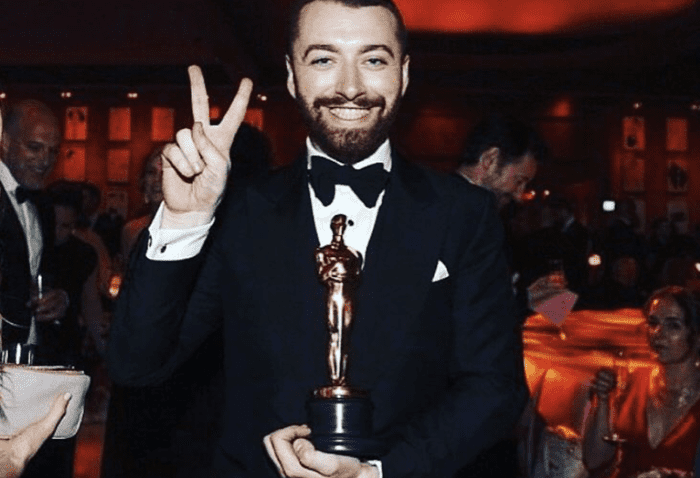 Sam Smith has clarified remarks he made about being the 'first openly gay man' to win an Oscar and has apologized to Oscar-winning screenwriter Dustin Lance Black after Black called him out on Twitter for those remarks.
After winning an Academy Award on Sunday for best original song, Smith said in his acceptance speech:
"…I read an article a few months ago by Sir Ian McKellen and he said no openly gay man had ever won an Oscar. And if this is the case, even if it isn't the case, I want to dedicate this to the LGBT community all around the world. I stand here tonight as a proud gay man and I hope we can all stand together as equals one day."
.@SamSmithWorld: "I hope we can all stand together as equals one day." https://t.co/vG5LjQdCo9 #Oscars https://t.co/bACtLSviUU

— ABC News (@ABC) February 29, 2016
Dustin Lance Black was one of many to criticize Smith for his comments. As countless individuals have now pointed out (including Sir Ian McKellen himself), Smith was not the first openly gay man to win an Oscar and McKellen was referring to openly gay men winning acting Oscars in the article Smith mentioned. To date, no openly gay man has won an Oscar for acting.
Black responded to Smith's speech on Twitter, including a personal remark about his fiancé, Olympic diver Tom Daley, in his post: "Hey @SamSmithWorld, if you have no idea who I am, it may be time to stop texting my fiancé."
https://twitter.com/DLanceBlack/status/704199543076818944?ref_src=twsrc%5Etfw
Later that same evening, at an Oscars after party, Smith tried to correct his on-stage comments by saying, "I think I'm the second openly gay person to win it."
Of course, that also was not true. However, on Monday, Smith chimed in again to set the record straight. He first tweeted that he was hungover and added that the point of his acceptance speech was to shine a light on the LGBT community who he loves "so dearly." Smith also said that where he stands in the order of gay men who have won Oscars matters less than his message of support for the LGBT community.
So hungover. genuinely feels like a dream

— samsmith (@samsmith) February 29, 2016
Second openly gay man to win an oscar or third or fourth or 100th, It wasn't my point.

— samsmith (@samsmith) February 29, 2016
My point was to shine some light on the LGBT community who i love so dearly.

— samsmith (@samsmith) February 29, 2016
Smith then apologized to Black writing, "Apologies for the mix up @DLanceBlack I'll be sure to check out your films now x Belated Congrats on the Oscar x"
Apologies for the mix up @DLanceBlack I'll be sure to check out your films now x Belated Congrats on the Oscar x

— samsmith (@samsmith) February 29, 2016
Black responded, saying, "@samsmithworld Congratulations. Drink water. Rest. But do check out some of the other Gay Oscar work out there. Some truly wonderful stuff."
@samsmithworld Congratulations. Drink water. Rest. But do check out some of the other Gay Oscar work out there. Some truly wonderful stuff.

— Dustin Lance Black (@DLanceBlack) February 29, 2016
Black previously tweeted explaining his intent in calling out Smith's gaffe, "THE POINT: knowing our LGBTQ history is important. We stand on the shoulders of countless brave men and women who paved the way for us."
THE POINT: knowing our LGBTQ history is important. We stand on the shoulders of countless brave men and women who paved the way for us.

— Dustin Lance Black (@DLanceBlack) February 29, 2016
[Top photo via Instagram]