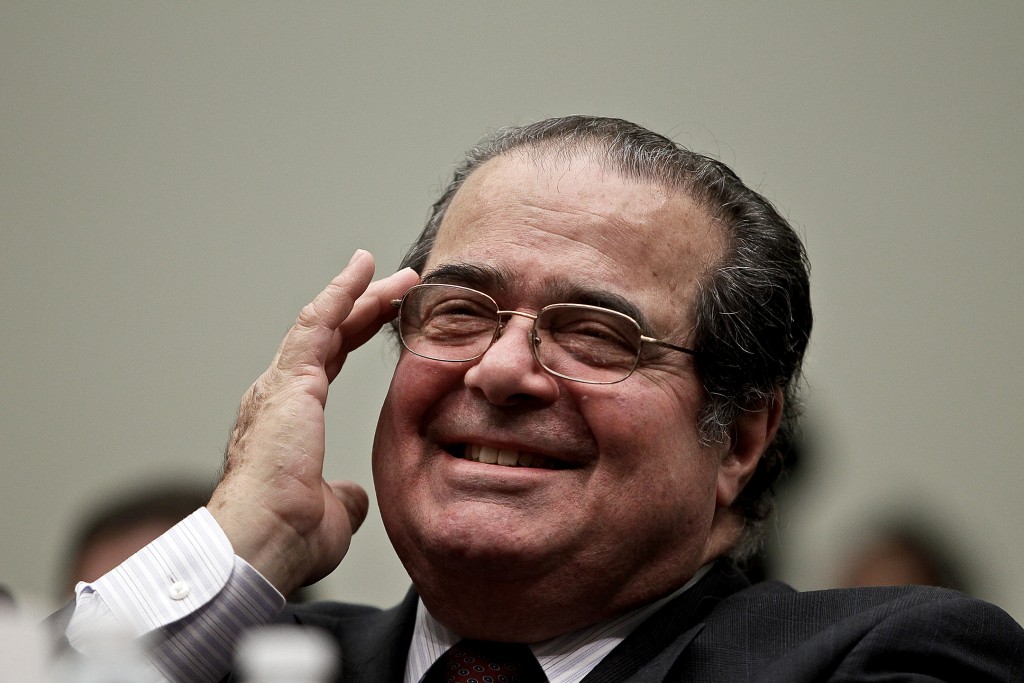 Since news of Supreme Court Justice Antonin Scalia's passing broke yesterday, the news cycle as well as conversation among politically-minded Americans has been dominated by little else. Countless individuals, including gay marriage plaintiff Jim Obergefell, have paid their respects to Justice Scalia for his years of service on the nation's highest court, recognizing the almost incomparable influence he has had in American law and politics since he was nominated by President Reagan in 1986.
While condolences are appropriate at this time, we feel it's also equally appropriate to remember just how staunchly Scalia opposed gay rights throughout his tenure on the Supreme Court. The next justice to ascend to the Court will undoubtedly wield enormous influence over the rights of minority communities for years to come. We created this list of Scalia's most hateful remarks disparaging the gay community with that in mind.
7. "The death penalty? Give me a break. It's easy. Abortion? Absolutely easy. Nobody ever thought the Constitution prevented restrictions on abortion. Homosexual sodomy? Come on. For 200 years, it was criminal in every state."
In a speech at the American Enterprise Institute in 2012, Scalia said that gay rights cases are "easy" to decide. Gay sex has been illegal for centuries which meant, in his view, that the constitution does not forbid the criminalization of gay sex.
6. "[T]o allow the policy question of same-sex marriage to be considered and resolved by a select, patrician, highly unrepresentative panel of nine is to violate a principle even more fundamental than no taxation without representation: no social transformation without representation."
These remarks hail from Scalia's scathing dissent in the landmark Obergefell v. Hodges which effectively legalized same-sex marriage nationwide. Scalia had many other notable soundbites from his dissent including:
"The Supreme Court of the United States has descended from the disciplined legal reasoning of John Marshall and Joseph Story to the mystical aphorisms of the fortune cookie."
and
"Today's decree says that my Ruler, and the Ruler of 320 million Americans coast-to-coast, is a majority of the nine lawyers on the Supreme Court…This practice of constitutional revision by an unelected committee of nine, always accompanied (as it is today) by extravagant praise of liberty, robs the People of the most important liberty they asserted in the Declaration of Independence and won in the Revolution of 1776: the freedom to govern themselves."
He also called the majority ruling in this case "a threat to American democracy."
5. "[T]o defend traditional marriage is not to condemn, demean, or humiliate those who would prefer other arrangements, any more than to defend the Constitution of the United States is to condemn, demean, or humiliate other constitutions. To hurl such accusations so casually demeans this institution. […]
This was Scalia's dissent from the majority ruling in United States v. Windsor which gutted the Defense Against Marriage Act (DOMA). In his dissent Scalia also noted that the Court's ruling would be used to help strike down same-sex marriage bans across the country:
"By formally declaring anyone opposed to same-sex marriage an enemy of human decency, the majority arms well every challenger to a state law restricting marriage to its traditional definition. Henceforth those challengers will lead with this Court's declaration that there is no legitimate purpose served by such a law, and will claim that the traditional definition has the purpose and effect to disparage and to injure the personhood and dignity of same-sex couples."
And he was right.
4. "Of course, it is our moral heritage that one should not hate any human being or class of human beings. But I had thought that one could consider certain conduct reprehensible — murder, for example, or polygamy, or cruelty to animals — and could exhibit even 'animus' toward such conduct…"
Scalia compared homosexuals to other such "reprehensible" categories of individuals such as murderers, polygamists, and people who beat animals in his 1996 dissent in Romer v. Evans. That case ruled that states cannot ban anti-discrimination protections for gay or bisexual people.
Scalia also declared in his dissent,
"This court has no business imposing upon all Americans the resolution favored by the elite class from which the members of this institution are selected, pronouncing that 'animosity' toward homosexuality … is evil … I vigorously dissent."
3. "[The Texas anti-sodomy law] undoubtedly imposes constraints on liberty. … So do laws prohibiting prostitution, recreational use of heroin, and, for that matter, working more than 60 hours per week in a bakery."
Scalia's dissent in Lawrence v. Texas, which struck down Texas' ban on sodomy as unconstitutional, had many anti-gay barbs. Not only did he compare gay sodomy to prostitution, heroin use, and labor law violations (of all things), he also compared it to bestiality and incest, writing:
"State laws against bigamy, same-sex marriage, adult incest, prostitution, masturbation, adultery, fornication, bestiality, and obscenity are likewise sustainable only in light of Bowers' validation of laws based on moral choices. Every single one of these laws is called into question by today's decision."
And he even got in a jab about "the homosexual agenda":
"Today's opinion is the product of a court, which is the product of a law-profession culture, that has largely signed on to the so-called homosexual agenda, by which I mean the agenda promoted by some homosexual activists directed at eliminating the moral opprobrium that has traditionally attached to homosexual conduct."
2. "If we cannot have moral feelings against homosexuality, can we have it against murder? Can we have it against other things?"
In 2012, Scalia was asked by a gay student at Princeton University why he equates bestiality and murder with homosexuality and the above remark is how Scalia replied.
1. "What minorities deserve protection? What? It's up to me to identify deserving minorities? What about pederasts? What about child abusers? This is a deserving minority. Nobody loves them."
It is both ironic and fitting that one of Scalia's most hateful and flippant remarks about homosexuality was given just months before he would pass away. Speaking at Georgetown University, his alma mater, this past November, Scalia said that the Supreme Court's rulings on gay rights had no basis in constitutional law and could just as easily be applied to pederasts and child abusers.
---
A FINAL NOTE…
Throughout his life, Scalia insisted he was not concerned with the actual morality of homosexuality but only with where the constitution stands on the subject. However, we believe that a close examination of all that he has said and written on the subject proves otherwise. His public remarks betrayed an anti-gay animus that was born out time and time again in his legal opinions. We hope this animus will remain forefront in Americans' minds as President Obama fights to name a successor to fill Scalia's spot on the court.