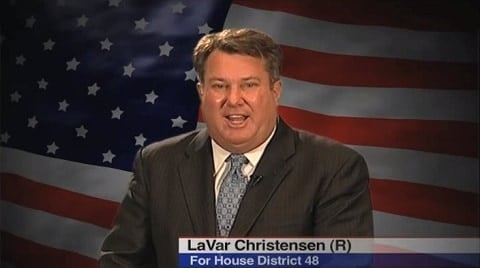 With legislation extending penalties for hate crimes currently before the Utah Senate, a new bill was introduced last week that could infringe on the rights of same-sex couples.
The bill was sponsored by Rep. LaVar Christensen (above), R-District 32.
According to University of Utah law professor Clifford Roskey, HB 393 "seems to claim that even though same-sex couples can now marry in Utah and in all 50 states…they might not be able to adopt children in the state of Utah."
The bill is a short one and borders on segregationist thinking. Christensen, in HB 393, states that "The state of Utah holds and reserves the sovereign right to decide all matters constituting and relating to its domestic relations laws and public policies." In short, the state can ignore any federal mandate regarding what types of marriages are allowed under the law (read: same-sex marriage).
The bill continues: "The United States Constitution does not delegate any authority to the federal government of the United States on the subject of marriage and divorce." Christensen, of course, is referring to the Obergefell v. Hodges case decided by the Supreme Court last year.
The proposed law has of course worried some LGBT Utahns. With two adopted daughters with her wife Lisa, Trudy Hardin-Reynolds told Fox13 that the bill makes them feel like second-class citizens. "It's frustrating," said Hardin-Reynolds, "I thought we had it made, I thought it was done, I thought it was a done deal…We are entitled to those same rights, the Supreme Court has ruled on families everywhere."
Roskey added that the bill "doesn't do much" and is just "Rep. Christensen trying to send a message to the Supreme Court that he doesn't like what they decided this summer on same-sex marriage."
Christensen failed to respond to a request from Fox13 for comment.
Watch a news report on the bill, below.