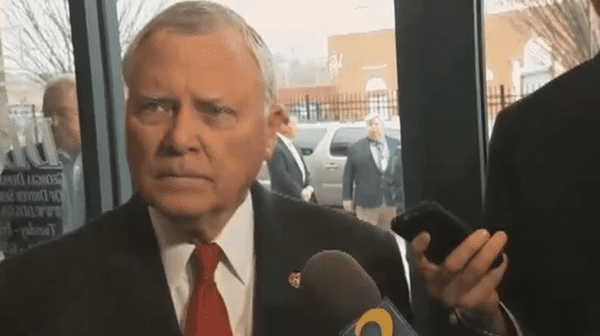 Georgia Governor Nathan Deal is planning to hold a 10 am news conference in the ceremonial office at the Georgia State Capitol this morning at 10 am.
https://twitter.com/pressgovdeal/status/714430895994900482
It's unclear what Deal will discuss, but certainly one of the largest items pending before him is the anti-gay "religious freedom" bill protested by dozens and dozens of major corporations, groups and individuals over the past week. Deal can either sign or veto the legislation.
Major organizations that have spoken out against the legislation include Apple, the Atlanta Braves, the Atlanta Falcons, the Atlanta Hawks, Dell, Disney, the Dow Chemical Company, the Georgia Chamber of Commerce, Hilton, Intel, Intercontinental Hotels, Live Nation Entertainment, Marriott, Marvel, MailChimp, the Metro Atlanta Chamber, Microsoft, the NFL, Paypal, Salesforce, Square, Time Warner, Turner, Twitter, Tyler Perry Studios, Unilever, The Weinstein Company, Virgin, and Yelp.
AMC, Viacom, Starz, 21st Century Fox, Lionsgate, Netflix, CBS, Sony, Comcast, and MGM have also joined the charge.
Under the terms of HB 757, as we reported earlier this month, faith-based organizations — churches, religious schools, or associations — don't have to rent facilities for "objectionable" events like marriages between gay people. Neither do they have to provide services, educational, charitable, social, or otherwise, which "violate such faith-based organization's sincerely held religious belief." They don't have to hire anyone whose "religious beliefs or practices or lack of either are not in accord with the faith-based organization's sincerely held religious belief" and can fire them for the same reasons.
Developing….