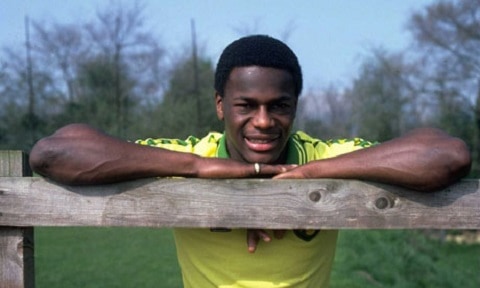 The niece of late gay soccer player Justin Fashanu (above) has claimed that she knows of seven gay soccer Premiership athletes. Last October, much was made of the news that two premiership players were ready to come out.
At the time, UK tabloid the Daily Mirror reported that "the two players – including an England international – have told family and friends, and are being supported by their clubs and the Football Association." The newspaper claimed that the players are preparing to come out at the start of the 2016/2017 season.
According to Dreamteam FC, Amal Fashanu has added to the speculation by claiming that seven soccer stars are trapped in a "dark world."
She said, "I actually know myself of seven. I will never, ever share their details. I'm not going to out them because I would never do that."
Justin Fashanu was the first openly gay soccer player when he came out in 1990. He committed suicide in 1998 following accusations that he sexually assaulted a 17-year-old.
Former premiership player Thomas Hitzlsperger came out following his retirement in 2013.
Last year, former Manchester City and current New York FC player Frank Lampard said he would "love it" if a pro player came out.
Watch a BBC report on homophobia in soccer below.