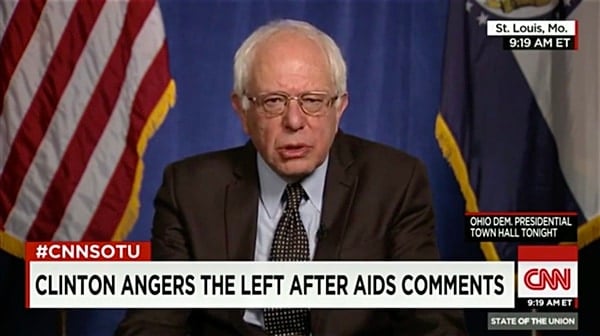 This morning on State of the Union, Bernie Sanders was asked by CNN's Jake Tapper about Hillary Clinton's remarks about Nancy Reagan and AIDS and the backlash they created from the LGBT community.
Said Sanders:
"I just don't know what she was talking about. In fact that was a very tragic moment in modern American history. There were many many people who were dying of AIDS and in fact there was demand all over this country for President Reagan to start talking about this terrible tragedy and yet he refused to talk about it while the AIDS epidemic was sweeping this country. So I'm not sure where Secretary Clinton got her information. I'm glad she apologized, but the truth is it was not President Reagan and Nancy Reagan who were leader in talking about this issue. Quite the contrary. They refused to allow that discussion to take place. They didn't get involved in it while so many fellow Americans were getting sick and dying."
Watch:
https://www.youtube.com/watch?v=fzgSJjtu25k#t=7m45s
Clinton has apologized twice for the remarks. Once, briefly on Twitter, and again in an extended statement yesterday.