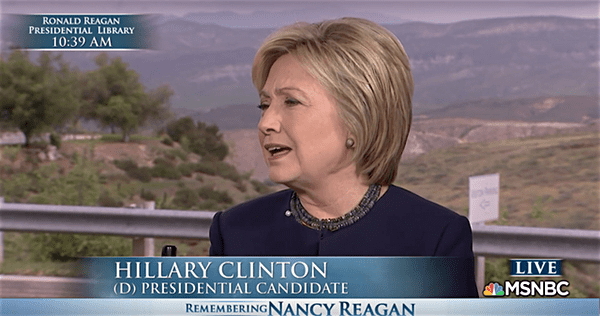 Speaking before Nancy Reagan's funeral on Friday, Hillary Clinton praised Nancy Reagan for her "effective, low-key advocacy" on HIV/AIDS during her husband's presidency.
Clinton called to mind "how difficult it was to talk about HIV/AIDS" in the 80s and credited both Nancy and Ronald Reagan with helping to start a "national conversation" on the disease.
Said Clinton,
"And because of both President and Mrs. Reagan–in particular Mrs. Reagan–we started a national conversation when before nobody would talk about it, nobody wanted to do anything about it. And you know that too is something that I really appreciate with her very effective, low-key advocacy but it penetrated the public conscience. And people began to say, 'Hey, we have to do something about this too.'"
Clinton's praise for the Reagan record comes in stark contrast to the thunderous choir of voices in the LGBT community who have criticized both Nancy and Ronald Reagan for their ineptitude and silence on HIV/AIDS. Just today, The Guardian published a piece titled "The First Lady Who Looked Away" about the many activists on the forefront of the HIV/AIDS crisis in the 80s who believe the Reagans turned "a blind eye" to the plight.
Add to this the fact that Mrs. Reagan refused to help her old Hollywood friend Rock Hudson seek potentially life-saving treatment as he battled AIDS. It wasn't until nearly two years after his death that the Reagan White House would do or say anything about HIV/AIDS.
Via a much-circulated piece on TeenVogue.com:
Though the World Health Organization was holding meetings about AIDS by 1983, the White House offered little support for awareness of the epidemic. Reagan, who first took office in 1981, didn't publicly address AIDS until well into his second term. According to ABC, more than 20,000 Americans had died from the disease by the time he first spoke about it.
The first lady notoriously had enormous sway over her husband, and could have intervened if she wished. She infamously tried to champion another epidemic of the era, drugs, with the overly simplified and ultimately harmful "Just Say No" campaign. It failed due to ignoring the roots of the cause and not understanding that addiction is a disease, not a choice. [The Guardian] writes, "Much like abstinence-based sex education… 'Just Say No' spread fear and ignorance instead of information." Like HIV/AIDS, the White House failed to properly educate itself, and as a result, let down its most vulnerable citizens in another spectacular way.
"On a personal level, she was someone who was not against gay people," Richard Socarides, a former White House adviser for President Bill Clinton, told the Associated Press about Nancy Reagan. "But when the country needed leadership, President Reagan was not there, and his wife — who was able to do more — was not willing to step up. It reflects rather harshly on both of them."
Even Nancy Reagan's daughter Patti Davis has spoken out publicly about the failure of her father's administration–an administration in which Mrs. Reagan played a key role–to take action on HIV/AIDS:
"I'm not gonna make excuses for the failure of his administration to address the AIDS crisis when it was going on. It was a failure. And it hurts my heart that that happened on so many levels. One of my father's flaws was that he delegated authority to other people and relied on them to give him the appropriate information on things. Presidents get briefings every morning…So they do rely on people to bring them information on what's going on and there were people around him who did not want him dealing with the AIDS crisis. I'm not making excuses for him. I'm saying that's a flaw of his, and in this case it turned out to be a really tragic flaw. He didn't really know the extent of what was going on until Rock Hudson died."
Watch Clinton's remarks on the Reagans and HIV/AIDS, below.
Hillary Clinton: The Reagans, particularly Nancy, helped start "a national conversation" about HIV and AIDS. https://t.co/7sZp8X53fb

— MSNBC (@MSNBC) March 11, 2016
UPDATE: Watch full video of Hillary Clinton's interview with MSNBC's Andrea Mitchell in which she made the comments about the Reagans and HIV/AIDS.