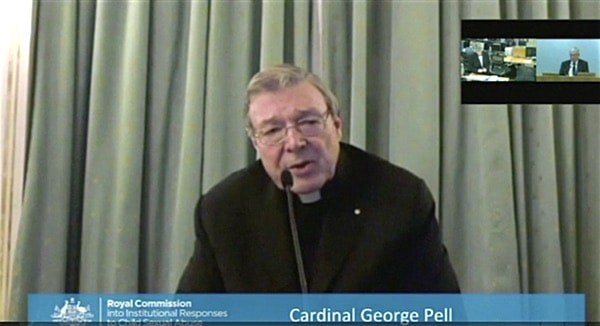 Vatican Treasure Cardinal George Pell gave testimony on Tuesday from Rome in a sex abuse investigation for which he refused to return to Australia. Pell is reportedly being investigated for "multiple offenses" while serving as a priest as Archbishop of Melbourne.
There were audible gasps Tuesday when Vatican treasurer George Pell said a notorious Roman Catholic Church sex-abuse case "wasn't of much interest" to him.
The Australian cardinal — the highest-ranking Vatican official to testify on systemic sexual abuse of children by clergy — said senior clergy lied to him to cover up abuse in the 1970s.
He insisted there was no reason for him to know the extent of the abuse carried out by his one-time roommate — pedophile priest Father Gerald Ridsdale — who was later convicted of 138 offences against more than 50 children.
Pell denied there was any discussion of Ridsdale being a pedophile at a meeting he attended in 1982 where it was discussed that Ridsdale should be moved to another parish.
Watch:
Pell is not charged with any crimes, but his testimony has taken on wider implications about the accountability of church leaders given his high rank within the church. He is considered the third most powerful clergyman in the Vatican, after Pope Francis and the secretary of state. Pell told reporters as he arrived at Rome's Hotel Quirinale to give evidence that he had the backing of Pope Francis.
A man whose daughters were raped by a priest reportedly confronted Pell at the hotel after Tuesday's testimony, saying it had shattered any hope that the inquiry would get to the heart of the issue.