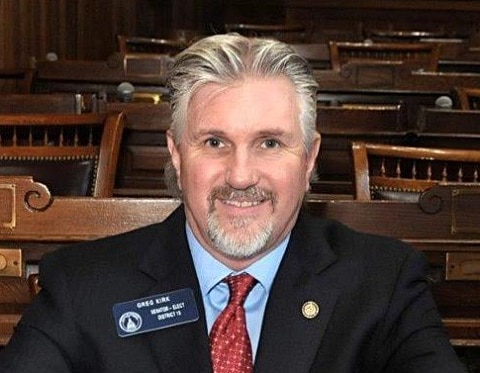 Georgia State Senator Greg Kirk has said his anti-gay First Amendment Defense Act is just fine because he's run it past his many, many gay friends.
According to Kirk, the bill "prevents government discrimination against faith-based adoption agencies, religious schools, youth programs, student organizations and other nonprofit organizations whose sponsoring churches hold the traditional view of marriage." In other words a free license to discriminate based on "religious beliefs".
Defending the bill, Kirk was asked if he had met with any gay groups before presenting it. No, he explained – because he ran it past some of his very, very, very best friends who now have a "gay lifestyle."
"Look, I'm 52 years old. I've grown up with friends who now live a gay lifestyle. But they're still very close friends to me, and I care deeply about them, and I have shared this with some of my friends and asked their viewpoint as well. That's been part of my vetting process."
Now we all know that "some of my best friends are gay" is much the same as "I'm not racist but…" so Atlanta Journal Constitution columnist Bill Torpy took it on himself to track down these elusive "gay friends" of Kirk.
Another anti-gay pol claims to have gay friends. Finally a reporter asks obvious followup Q: "Can I talk to them?" https://t.co/Qddgqp5rW2

— Dan Savage (@fakedansavage) February 29, 2016
Kirk helpfully told Torpy that he's not so sure that his gay pals "are going to jump out and cheer" for his heinous legislation and added that he had talked to "some of those folks" in Midtown, the gay capital of the south. On the latter, the Senator oddly wasn't specific about how "those folk" responded.
Torpy pushed Kirk on the issue, going so far as to have the Senator give his number to his numerous gay friends. Obviously, nobody called the reporter back because, according to Kirk "the only one, and there are only three, that I thought would speak with you said no."
Despite this, Kirk was adamant – with his own gay friends, "I haven't lost any."
(Image via Ballotpedia)