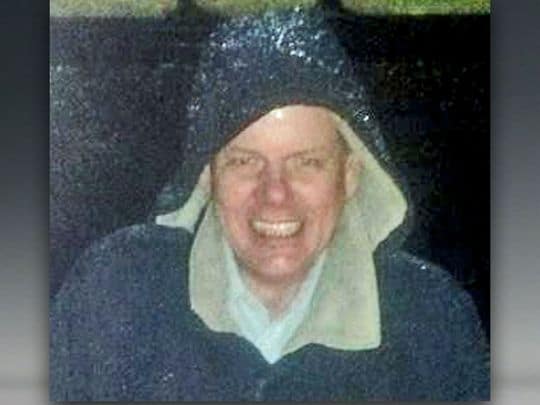 Eleven months after 51-year old Ronald Shumway (above) mysteriously disappeared, Dallas police have charged his ex-boyfriend with murder.
Authorities say 43-year-old Christopher Brian Colbert posed as Shumway and sold his house following his disappearance in April. In September, authorities found human remains encased in concrete in Shumway's backyard. It took six months to identify those remains as belonging to Shumway, before a warrant for Colbert's arrest was issued in February.
After Colbert was arrested by US marshals in California, he confessed to killing Shumway, but said it was self-defense, according to an arrest warrant. However, Colbert's account was inconsistent with autopsy evidence, which showed Shumway's hands and feet were bound with neckties and he had several ligatures around his neck, the warrant states.
Colbert admitted to wrapping Shumway's body in a  black plastic bag and burying it in concrete in the backyaard, but said he didn't call police because he was in shock.
Colbert was initially charged with tampering with a governmental record, securing a document by deception and money-laundering. In addition to altering Shumway's driver's license and forging his signature to sell the house, Colbert allegedly ran up $40,000 in purchases on the dead man's credit card. Colbert even posed as his landlord on Facebook, posting that he'd moved to Austin after finding his "midnight cowboy," who was teaching him to ride a horse named "Snuffy."
Colbert now faces a murder charge in addition to the original counts, and his total bond is $450,000. He remains in a Los Angeles jail awaiting extradition to Dallas.
Read Colbert's arrest warrant below.