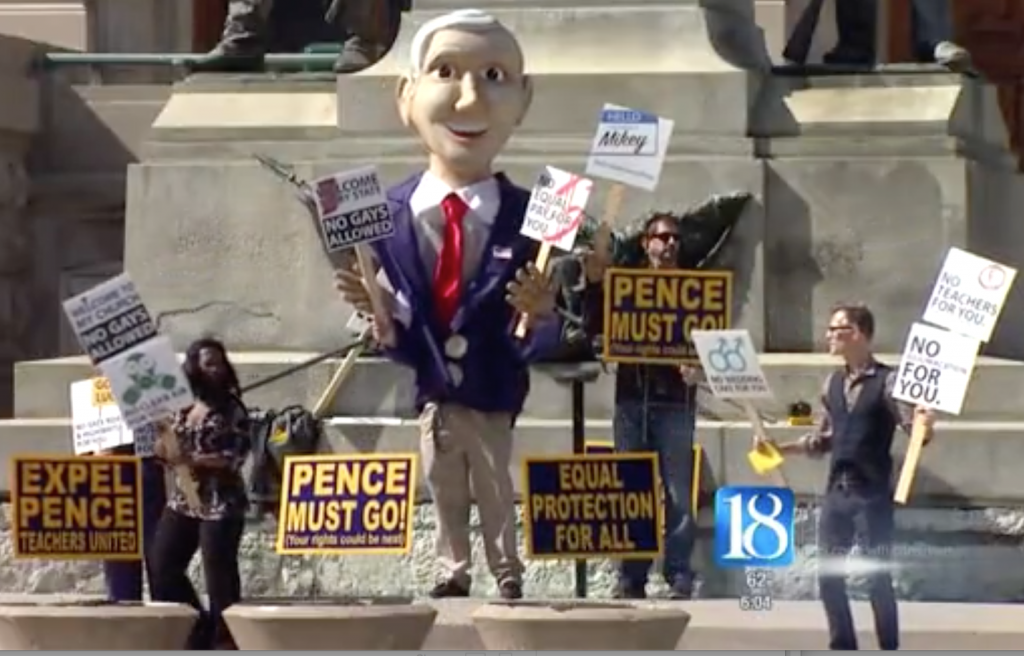 An Indiana man is protesting the Legislature's failure to pass statewide LGBT protections this year by donning an inflatable Gov. Mike Pence costume outside the Capitol.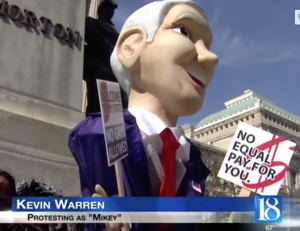 Kevin Warren, who made "PENCE MUST GO!" yard signs last year, spent $2,000 on the "Mikey" suit.
"Them not passing a civil rights bill this session, it's unacceptable," Warren told WLFI-TV. "You know, I think it was very clear from all of us when he gave the State of the State Address that he had no intentions of passing any civil rights laws, and we're angry. We're not going away."
In his State of the State address in January, Pence pledged to guard religious freedom at the expense of LGBT rights.
"I will not support any bill that diminishes the religious freedom of Hoosiers or interferes with the constitutional rights of our citizens to live out their beliefs in worship, service or work," Pence said, adding that state lawmakers would need to decide "whether it is necessary or even possible" to balance LGBT rights with "religious freedom."
In early January, lawmakers killed a proposal to add LGB protections to the state's anti-discrimination laws. The bill was considered "deeply flawed" by LGBT groups because it didn't provide gender identity-based protections and contained broad religious exemptions.
Indiana's legislative session ends Thursday.
Warren said he plans a larger protest outside Mike Pence's home on Saturday.
Pence faces a challenge from Democrat John Gregg in November.
Watch WLFI's report below.