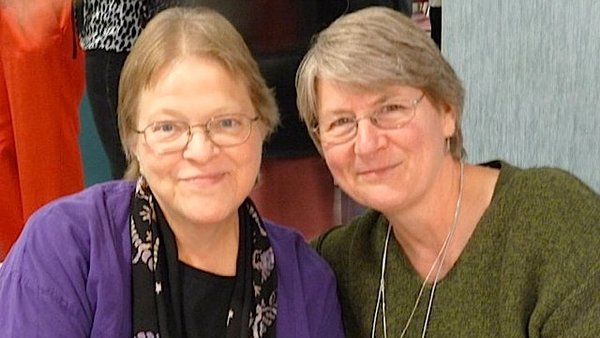 Almost four years to the day after her wife died from cancer, a lesbian widow from Texas has finally won her battle for Social Security survivor benefits.
Lambda Legal, which represented Kathy Murphy (above right), announced Tuesday that its 2014 lawsuit against the Social Security Administration has been resolved.
Murphy had been denied benefits for her late wife, Sara Barker (above left), because they lived in a state that didn't recognize their marriage. In addition to resolving Murphy's case, Lambda Legal reports that the SSA has finally updated its instructions to staff in accordance with the U.S. Supreme Court's ruling in Obergefell v. Hodges last June.
"With this good news, including SSA's long-awaited changes to its policies to conform to Obergefell, we are hopeful that LGBT widows, widowers and retirees, wherever they live, will be able to receive the Social Security spousal benefits to which they are entitled," said Susan Sommer, Lambda Legal's national director of constitutional litigation at Lambda Legal. "LGBT people, who earned benefits through years of hard work, deserve to receive them without further delay and at long last to have their relationships treated with dignity by the federal government."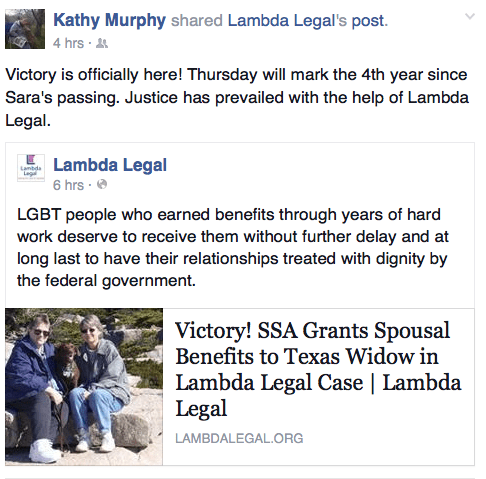 Murphy and Barker, who lived in Austin, traveled to Massachusetts, where they first met in 1979, to get married in 2010. Barker died from cancer in March 2012, and Murphy filed her Social Security claim following the high court's decision striking down the federal Defense of Marriage Act as unconstitutional in Windsor v. United States in 2013.
However, the SSA rejected Murphy's claim based on a federal statute saying the agency must base decisions about eligibility for benefits on a couple's "place of domicile" rather than the "place of celebration" of their marriage. The decision cost Murphy more than $500 per month.
"Sara and I were blessed with nearly 32 years together," Murphy said. "We worked hard to close all the gaps before she died, and I'm very relieved that the federal government is finally doing its part. The Social Security benefits I will receive will ensure that I can take care of the home that Sara and I shared together."
Murphy is a member of the National Committee, the organizational plaintiff in the case. The National Committee is an advocacy organization dedicated to protecting Social Security for all generations and communities, including same-sex couples and their families
"The basic tenets of the Social Security program are that if you contribute to the system throughout your working life, you and your family will receive those earned benefits in retirement, death or disability," National Committee President and CEO Max Richtman said. "We are pleased that the Social Security Administration now has instructions for its staff on how to right a wrong for thousands of same-sex spouses who have been denied benefits because their home states refused to recognize their marriages."
Read the SSA's new instructions to staff here.