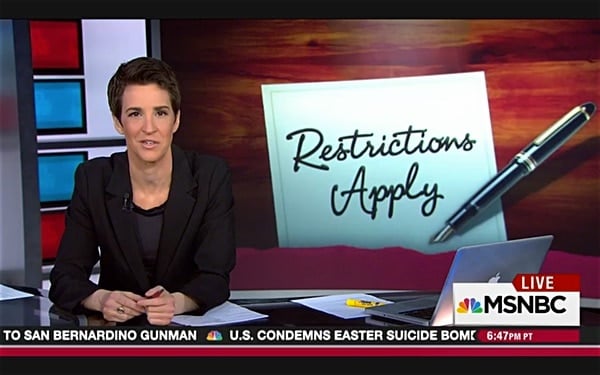 Rachel Maddow spent a segment last night covering the ugly anti-LGBT action going on in states around the country, pointing out the business repercussions faced by Indiana's Governor Mike Pence last year and how they scared other states into rejecting similar measures, up to and including the veto of the anti-gay 'religious freedom' bill by Georgia's Governor Nathan Deal on Monday.
Except for North Carolina, which this week passed a heinous measure revoking and banning LGBT rights ordinances statewide, an action which has come with consequences. In Maddow's words:
"The state is about to get their pants sued off them by the ACLU."
The ACLU's Chase Strangio joined Maddow to talk about the lawsuit filed yesterday against the state of North Carolina following the passage of HB 2.
The federal lawsuit filed Monday comes from a coalition of advocacy groups, including the American Civil Liberties Union, Lambda Legal and Equality NC. They are seeking an injunction against the new law on the grounds that it violates the 14th Amendment as well as Title IX.
"North Carolina is going to be a cautionary tale of what happens when the government decides to discriminate" against its own people, said Lambda Legal attorney Peter Renn, one of the attorneys on the case. "Let's be clear: You will be sued if you pass a law like this," he said.
Here's a bonus vid – the CBS North Carolina report about the lawsuit featuring some of the plaintiffs: