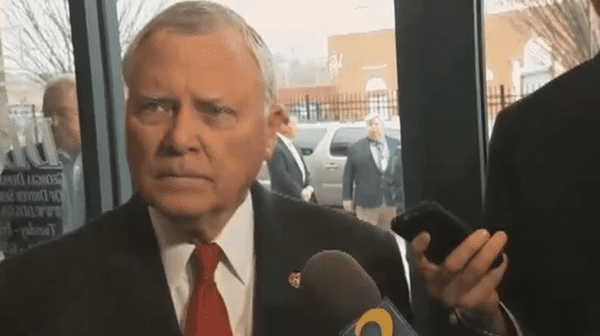 Georgia Republican Governor Nathan Deal has denounced a proposed 'religious freedom' bill that would give foes of LGBT rights a license to discriminate in The Peach State. Said Deal on Thursday, "I don't think we have to have anything that allows discrimination in our state in order to protect people of faith."
Deal previously signaled he would not support the bill that recently passed the state senate because of the negative impact it would have on the state's business community. He feared that Georgia booming entertainment industry would suffer if the 'religious freedom' bill became law.
Deal also said he would not sign the bill as it currently stands without major modifications.
On Thursday, however, the Atlanta Journal Constitution reported that Deal would also be content with no religious freedom bill at all. Said Deal, "It's not on my agenda item. It's not one of those issues that I have been pushing."
He added, "I know that there are a lot of Georgians who feel like this is a necessary step for us to take. I would hope that in the process of these last few days, we can keep in mind the concerns of the faith-based community, which I believe can be protected without setting up the situation where we could be accused of allowing or encouraging discrimination."
In blasting the bill, Deal made a Biblical argument about why the 'religious freedom' law is unchristian, saying that Jesus preached love and acceptance of society's outcasts, particularly those scorned by religious institutions. Deal is a Southern Baptist.
Speaking in the lobby of a government building after a ribbon-cutting ceremony, Deal said, "What the New Testament teaches us is that Jesus reached out to those who were considered the outcasts, the ones that did not conform to the religious societies' view of the world … We do not have a belief in my way of looking at religion that says we have to discriminate against anybody. If you were to apply those standards to the teaching of Jesus, I don't think they fit."
Referring to a passage from the Gospel of John, Deal added: "What that says is we have a belief in forgiveness and that we do not have to discriminate unduly against anyone on the basis of our own religious beliefs. We are not jeopardized, in my opinion, by those who believe differently from us. We are not, in my opinion, put in jeopardy by virtue of those who might hold different beliefs or who may not even agree with what our Supreme Court said the law of the land is on the issue of same-sex marriage. I do not feel threatened by the fact that people who might choose same-sex marriages pursue that route."
Deal also maintained that he believes in "traditional marriage" between a man and a woman. But in his words, "that does not mean that those who hold to that view should feel like they are threatened by those who have a different point of view."
No doubt speaking to his fellow Republicans, Deal said, "I hope that we can all just take a deep breath, recognize that the world is changing around us, and recognize that it is important that we protect fundamental religious beliefs. But we don't have to discriminate against other people in order to do that. And that's the compromise that I'm looking for."
David Ralston, spokesperson for the Georgia Speaker of the House has since commented, "Speaker Ralston appreciates and shares Governor Deal's sincere commitment to protecting religious liberties while ensuring that Georgia continues to welcome everyone with genuine southern hospitality. Productive conversations continue with the Governor's staff as well as other members of House leadership regarding HB 757 and the Speaker is confident that we can find a way to move forward together."
Watch an interview with Deal from today from CBS46 below.