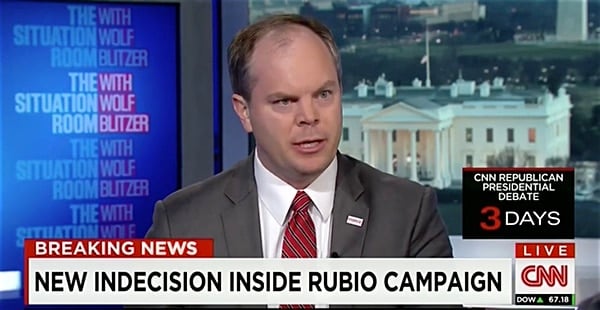 Marco Rubio's communications director Alex Conant last night furiously directed  Wolf Blitzer to stop reciting "fiction" regarding reports that Rubio was considering dropping out before Florida in order to save his political reputation should he lose the state.
CNN reported earlier:
A battle is being waged within Florida Sen. Marco Rubio's campaign about whether he should even remain in the Republican presidential race ahead of his home state primary on March 15, sources say.
Rubio himself is "bullish" on his odds of winning the critical primary, despite some advisers who are less hopeful and believe a loss there would damage him politically in both the short- and long-term.
Said a visibly flustered Conant:
"It's going to be very competitive. Marco's going to win Florida, and we're going to be well on our way to securing the delegates we need."
Added Conant:
"Jamie's report was utter nonsense. It's absolutely, 100% false. CNN is doing a disservice to voters by airing that sort of reporting without even checking with the campaign…Wolf, I have a lot of respect for you, but I'm going to ask you to stop reading that sort of fiction on air because it's not true at all. That's fiction and CNN should stop reporting it….How did that get to air without somebody asking the campaign for comment?"
Watch: