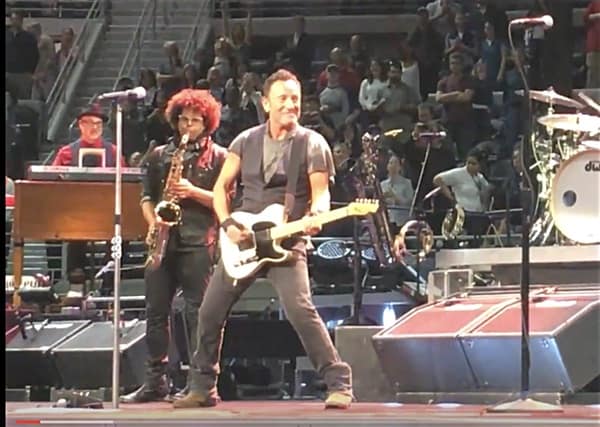 Before launching into "Born in the USA" at his concert at the Palace of Auburn Hills in Detroit, Bruce Springsteen warned Michigan not to pass an anti-LGBT "bathroom bill" like the one he canceled his concert over in North Carolina.
Springsteen suggested passage of the bill could threaten future concerts there.
The Detroit Free Press reports:
Noting that he'd caught word of a bill similar to the controversial North Carolina law regulating transgender restroom use, the rocker asked the Detroit audience to be alert, "because we love playing in Michigan."
Springsteen was presumably referencing recent remarks by Michigan Sen. Tom Casperson, who wants legislation that would bar the state's K-12 students from using bathrooms that don't match their biological sex.
As we reported yesterday, Casperson said he plans to introduce the legislation because the Michigan Board of Education has proposed to allow transgender students to use bathrooms and locker rooms that match their gender identity.
Said Casperson:
"It is hard to believe that a state board, which is clearly out of touch with Michigan residents, got assistance from equally out of touch unelected bureaucrats to develop such a document to fundamentally change Michigan's public education system without the public's prior knowledge or consent. In the pursuit of social justice, this so-called draft guidance document creates numerous problems, from the elimination of parental authority and notification to threatening student safety and beyond. My bill would stop this policy dead in its tracks."