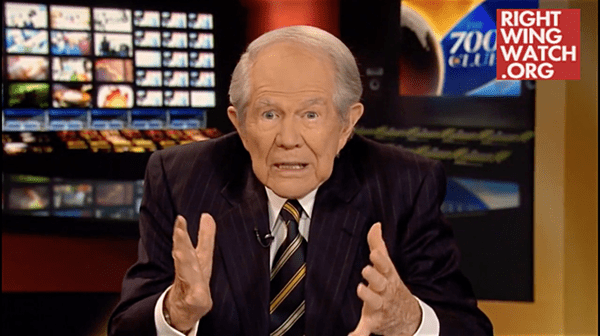 Speaking in support of North Carolina's "perfectly reasonable" anti-gay HB2 law, hoary old televangelist Pat Robertson has said that most transgender people are phonies and frauds.
Explaining that he is "simply appalled" at the outcry over the "religious freedom" law, Robertson said it is in fact a good thing because "we don't want men going into women's bathrooms, we don't want predators going out where little girls are, we don't want voyeurs having free access to the women's locker rooms during games when they're changing clothes."
Claiming that transgender people are "relatively rare," he continued:
"So much of this other stuff is put up, it's put on and it's just a fraud. And it's one more opportunity for the left to demonstrate against some aggrievement they claim to have that doesn't exist. This is a phony, phony, phony cause to get involved in. 'Well, I've got to look after the transgenders.' This is nonsense."
Watch Robertson's comments via Right Wing Watch below.