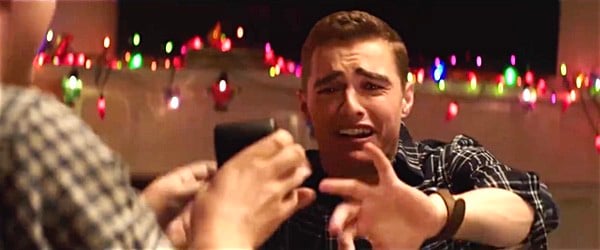 Earlier this month, news emerged that Dave Franco's character in the new film Neighbors 2: Sorority Rising is gay and engaged to another man (John Early, formerly of 30 Rock).
Now, a new clip from the film shows the moment Franco's character gets engaged.  The scene happens early in the film as the frat brothers are having a poker game. When they break into a spontaneous rendition of "I'm Yours", Franco's character realizes something strange is happening.
"Oh my God, our song," he says, as Early gets down on one knee.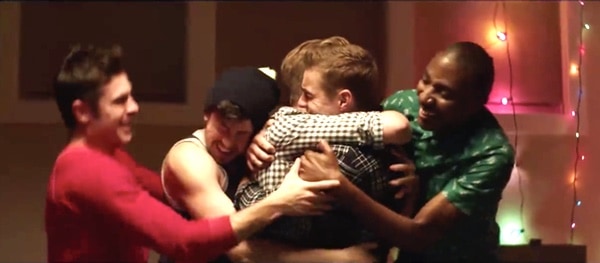 Slate's Jeffrey Bloomer raved about the refreshing scene this week:
The scene is ingeniously direct. There are no weird jokes, just a cute proposal inflected with priceless post-frat touches (see: Mraz, ukulele, inexplicable patriotism). The infectious moment almost distracts us from what's really going on. Recall that in the original Neighbors, Pete hooked up with women and was carefully coded as heterosexual, even though his most intense emotional (and really, physical) bonds were clearly with his frat brothers. This is the "bromance" contract Neighbors observed: The love between the two men in question (in this case, Efron and Franco) must never become sexual. In turn, the audience, usually young men, giggles rather than asks questions.
By bringing Pete out of the closet without so much as a wink, Neighbors 2 tries to tear down that wall. The proposal scene is beautifully engineered to catch audiences off guard and then disarm them with genuine sweetness and giddy emotion. The sequence feels like a stinging rebuke to years of skittish comedies about male bonds, up to and including the original Neighbors—an unforced triumph in a movie that could have been much safer.
Watch it go down:
https://www.facebook.com/NeighborsMovie/videos/498203457042955/