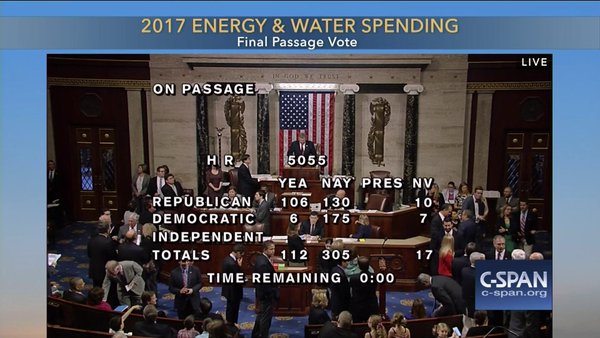 An energy and water bill was killed in the House on Thursday as the result of an ongoing battle in Congress over LGBT rights and so-called "religious freedom."
Openly gay New York Rep. Sean Patrick Maloney successfully added an amendment onto that bill late Wednesday which would ban federal contractors from discriminating against LGBT people on the basis of their sexual orientation or gender identity. Specifically, Maloney wanted to ensure the enforcement of President Obama's 2014 executive order that prohibits such discrimination.
However, two Republican representatives, Rep. Joe Pitts (R-Pa.) and Robert Pittenger (R-N.C.), also successfully added a "religious freedom" amendment and an amendment that would have banned the Obama administration from withholding federal funds from North Carolina over HB 2.
The pro-LGBT amendment from Maloney combined with the anti-LGBT amendments from Pitts and Pittenger were enough to kill the bill altogether, as The Hill reports:
Most Democrats voted against the bill due to spending levels and policy riders. Taken together with Republicans who opposed the inclusion of the LGBT measure, the legislation didn't have enough votes to pass Thursday. It failed 112-305, with 130 Republicans joining all but six Democrats to sink the Energy Department spending bill.
The bill's failure Thursday marks the second time in two weeks lawmakers waged very public fights over LGBT policies on the House floor. […]
Democrats lambasted Republicans for the maneuver. After adopting the Maloney measure on Thursday, Minority Leader Nancy Pelosi (D-Calif.) said Republicans had otherwise "chosen to engage in a systematic campaign of discrimination against LGBT Americans" and "should be ashamed of themselves."
The $37.5 billion bill provides funding for the Department of Energy and water programs within the federal government. It was the second spending bill to the House floor this year, but leadership aides told The Hill on Thursday the continued LGBT spat could endanger the rest of the appropriations process this session.
[Top photo via CSPAN / Twitter]