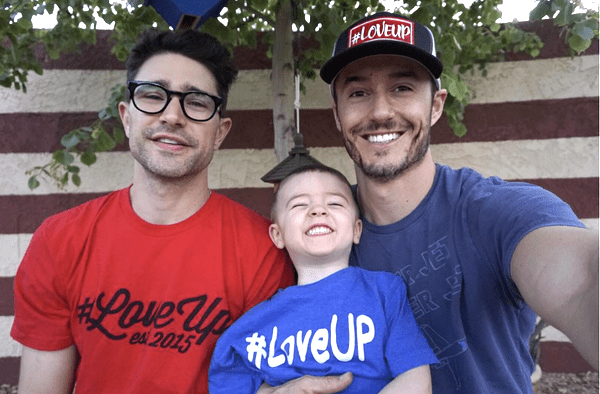 Matt Dallas and Blue Hamilton are opening up about their son Crow and how they built the family of their dreams.
Dallas (33), the former Kyle XY star, and husband Hamilton (36), a singer, have been married for almost a year and have already been on quite a journey. The pair introduced their adopted son, Crow, to the world around Christmas last year. They also started their own YouTube channel, Matt + Blue, and are reported to be making a docuseries about their family. 
Of meeting Crow, Dallas told PEOPLE, "We locked eyes. And he had a giant smile on his face, "It was a moment. Instantly we knew — that's our kid!"
Hamilton, says of their journey to finding their son,
"There were so many kids, and so many stories that broke our hearts. I was obsessed. Every night in bed I'd pull out my iPad and say, 'Look at this story.' So many kids! And then they age out of the system at 18. We wanted to feel like we were doing something good for a child out there."
Adopting was never a question for the couple. Dallas says, "Blue and I both knew that we would love [an adopted child] the same [as a biological one]. The amount of time we spend with that kid and the bond we have, it makes no difference. He's ours."
As for whether Crow will get a sibling, Dallas says, "I would love for him to have a sibling. But we want Crow to cement his place in this family. Right now, we're just enjoying this time."
Of their family, Hamilton says, "In the end, this was the family we had imagined in our dreams."
Watch a recent adorable vlog from Matt + Blue about their trip to see The Jungle Book, below.
And check out more photos of the family, below.