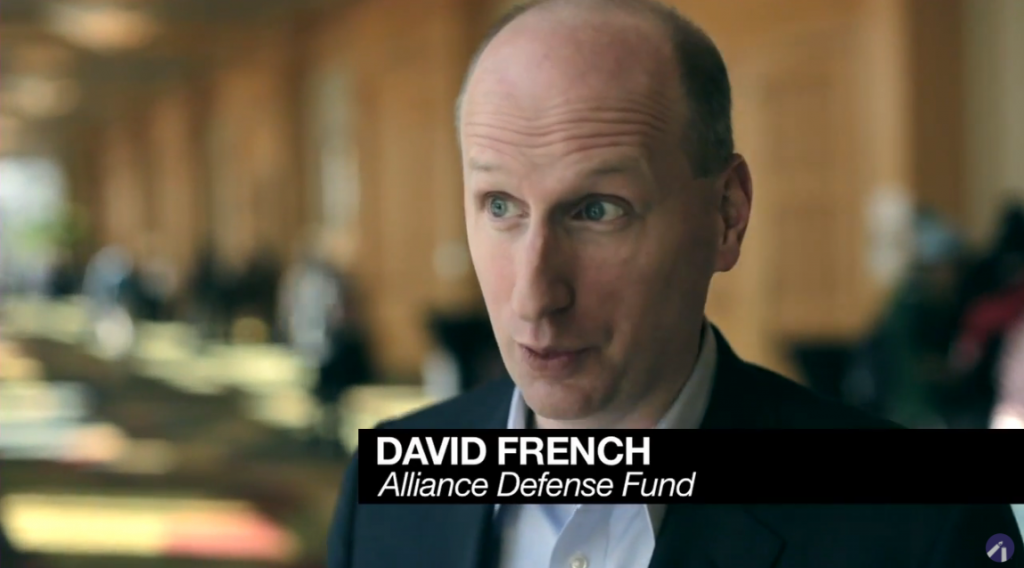 On Tuesday, news broke that conservative pundit and #NeverTrump-er Bill Kristol was recruiting little-known conservative writer David French to mount an independent bid for president. News outlets had a field day with the story, pointing out that not only does French have zero name I.D. outside of the wood-paneled meeting rooms that ensconce the vast right-wing conspiracy, he also has no shot of getting on ballots in all 50 states were he to run.
Here in Israel, reading about possible @DavidAFrench candidacy, thought of Herzl: Im tirtzu, ein zo agada. If you will it, it is no dream.

— Bill Kristol (@BillKristol) June 1, 2016
Another fact about French we've learned in the last 24 hours is that he has a history of fighting LGBT rights. French served as a lawyer for the vehemently anti-gay legal group Alliance Defending Freedom (ADF) from 2006 to 2010. Carlos Maza of Media Matters For America writes, 
Both before and after French's tenure there, ADF worked to defend domestic and international anti-sodomy laws that criminalize homosexual behavior. ADF is also the group behind the recent wave of anti-LGBT "religious freedom" laws and anti-transgender "bathroom bills." The group has a history of fighting to limit access to reproductive healthcare, including testifying against Planned Parenthood and taking part in the Supreme Court's Hobby Lobby case.
While writing at National Review, he also railed against LGBT rights:
At National Review, French has written extensively against LGBT equality and women's access to abortion. He announced in 2010 that he had changed his mind and decided to oppose marriage equality, later warning that America was "racing off on our own cultural experiment." He's written multiple pieces attacking the transgender community, lamented "transgender entitlement," described a young transgender woman as a "man" who is "on the verge of mutilating himself," and argued that states should reject federal education funding rather than prohibit discrimination against transgender students. […]
Watch video of Mark Halperin and John Heilemann discuss French's potential candidacy, below.
[Top photo via MMFA]