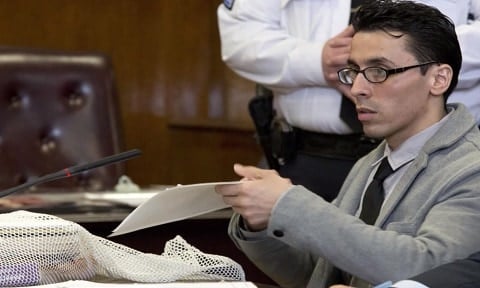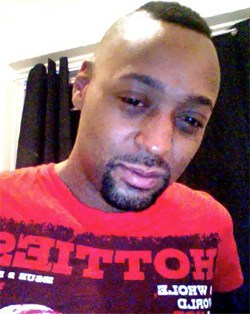 Elliot Morales was sentenced to 40 years to life on Tuesday for the fatal stabbing of Brooklyn gay man Mark Carson (right) in 2013.
Morales was found guilty of murder as a hate crime in March. Representing himself during the trial, Morales claimed Carson's murder was "a tragic accident." He said it was "beyond my comprehension how someone like myself who happens to be bisexual and part of the L.G.B.T. community can be falsely accused and then convicted of a hate crime."
Jurors rejected Morales's claim that his intimate relationships with transgender women proved he was not homophobic and that his crime was not based on hatred toward gay people.
Before his fatal encounter with Mr. Carson in May 2013, Mr. Morales stormed the Annisa restaurant on Barrow Street shouting antigay slurs and brandishing a weapon, after an employee there upbraided him for urinating on the sidewalk.
Mr. Morales left enraged and soon spotted Mr. Carson and Danny Robinson, a pair of friends from Brooklyn, dressed in shorts and tank tops. Mr. Morales taunted the men, calling them "gay wrestlers" and "faggots." The friends challenged Mr. Morales's mocking tone, and the confrontation moved into the shadow of a closed bookstore. There, Mr. Morales pulled out a revolver and shot Mr. Carson in the face while Mr. Robinson called the police.
Mr. Morales often flailed in offering explanations for his actions. After fleeing the scene of the murder, he told apprehending officers that he shot Mr. Carson "because he tried to act tough." In a video taken during his arrest that Judge Bartley described as "chilling," Mr. Morales laughed maniacally and exclaimed, "Diagnosis dead, doctor!"
At the trial itself, Mr. Morales claimed he acted in self-defense, afraid that the phone Mr. Robinson had retrieved was a weapon. The prosecution thwarted that notion, saying Mr. Morales had acted out of "bigotry" and "unjustifiable rage," not fear.
Lead prosecutor Shannon Lucey described Morales as having "a lot of self-loathing issues." She added that while the defendant had sexual relationships with trans people, he never appeared with them in public.
https://twitter.com/blacneighbor/status/742824952403918848
Following the March verdict, one juror said Morales's actions showed "he was kind of categorizing people" in a manner that exposed his anti-gay bias.
At sentencing, Judge A. Kirke Bartley said "I can't help but perceive or observe the parallel tragedy in Orlando. That parallel is revealed in hatred, self-loathing, fear and death."
In a statement following sentencing, Robinson said, "The guilt of asking [Carson] to go out with me that night, it's like I feel it's my fault."
According to a 2015 FBI report, 18.6 percent of 5,462 single-bias hate crimes in 2014 were because of the victim's sexual orientation while 47 percent were attributable to race.
Watch a report on the case from Pix 11, below.