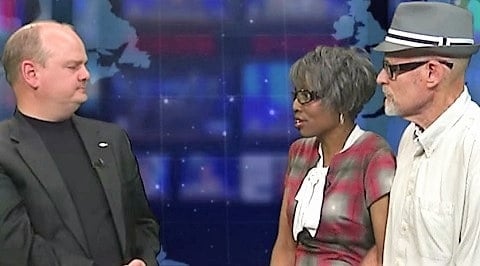 Devil-obsessed Colorado congressman Gordon Klingenschmitt (R) has said that same-sex marriages are bad because "homosexuality is based on lust."
Sure.
Speaking on the latest edition of his comedy show "Pray In Jesus Name," Klingenschmitt used an interview with an interracial heterosexual couple to argue that opposition to same-sex marriage is nothing like opposition to interracial marriage because LGBT people are "bringing their dirty laundry and bedroom stuff to the people and it is not a civil right."
Oh, OK then.
According to Right Wing Watch, Ruth Bryant White told numpty Klingenschmitt:
"They're using it, saying that homosexuality is a civil right. There is nothing civil about it in any way shape, form or fashion. And even if it was a civil right, God's word take precedence over anything that man's law can do … Now we've got Christians who were living a straight life now that are going back into the homosexual lifestyle. That's a lust, that's a demon … They put that over God and His word? And they're will to burn for eternity for that?"
Warming to the theme, Klingenschmitt also handily confirmed that White and her husband Steve's marriage is "based on love," which yours clearly isn't.
Bryant concludes by questioning whether gays are "willing to burn in eternity." Definitely.
Watch the ridiculous interview via Right Wing Watch below.
https://www.youtube.com/watch?v=LcvCqgtXChw&feature=youtu.be