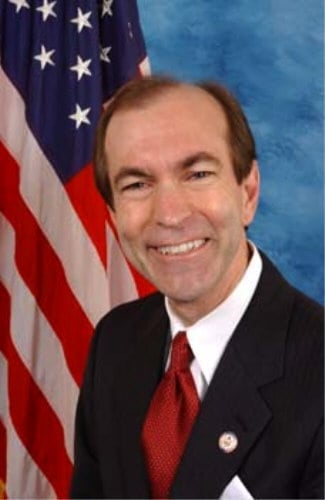 New Jersey Rep. Scott Garrett, who told Republicans last July that he would not pay dues to the RNC because the organization was supporting gay candidates, will be publicly shamed over the weekend by an airplane banner by The Democratic group House Majority PAC, the Huffington Post reports.
Garrett has since clarified that he doesn't oppose gay people running for office, but he believes the GOP should not support candidates who back same-sex marriage.
"I said I support anyone's right to run for public office and will support those people who support positions that's in the Republican platform," Garrett said, referring to the platform's line that the "union of one man and one woman must be upheld as the national standard."
An airplane with the banner "SCOTT GARRETT: ANTI-GAY BIGOTRY WONT FLY" will fly above Jersey Shore beaches from Belmar to Sandy Hook on Sunday and Monday, the Independence Day holiday.
In April we reported that Garrett's anti-gay stance appeared to be causing him fundraising woes.
The plane banner is part of a campaign which includes the Stop Scott Garrett website.