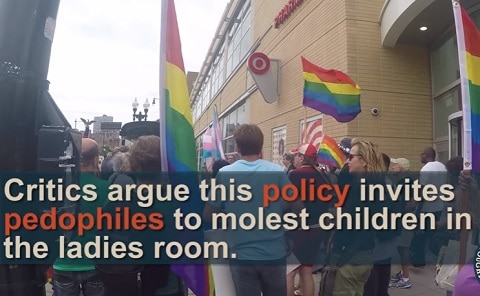 Police in Evanston, Illinois have arrested a woman after a small bomb detonated in a Target restroom on Wednesday.
Damage was limited to a stall in the women's restroom. No threats were reported before the incident.
WGN TV reported that a plastic bottle was used but no projectiles were inside it. Investigators are said to be gathering evidence including store security recordings.
It was thought the attack may have been related to Target's controversial pro-transgender bathroom policy.
https://twitter.com/toddstarnes/status/740622201846517760
However, a press release notes that detectives "are not currently looking for any known additional suspects, and [at] this point there is no indication that the incident is related to any policies that the Target store has in place."
No charges have as yet been filed against the 44-year-old suspect.
Last month, a bible-bearing woman stomped through a Target store warning people against "bowing to the homosexual perverted agenda." Earlier in May, hate group the American Family Association (AFA) proved that concerns over dangers lurking in Target bathroom are true by sending men into the retailer's women's facilities to "test" the Target's policy. 1.3 million people have signed an AFA petition saying they will boycott the store.
Watch a report on a protest outside a Chicago Target branch last weekend.