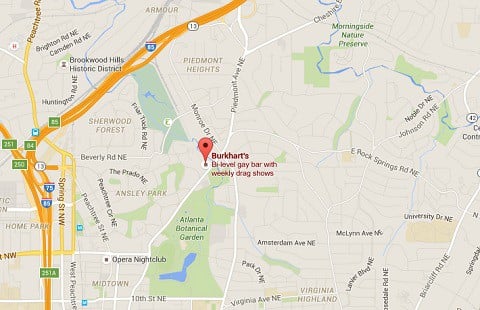 Atlanta police are investigating reports of an armed robbery outside a gay bar last Sunday evening.
The attack happened at Burkharts Pub on Piedmont Avenue.
According to police, the masked and armed suspects pulled up outside the bar, forced a group of men to the ground and stole an undisclosed amount of cash from the victims.
One of the victims Tripp Barrett told CBS46.com:
"Pretty much everyone who frequents the club is a member of the LGBTQ community. I do believe that had something to do with it. I also believe they may have been waiting for the bartenders to get off work because they know they'd have a pocket full of cash.
"Nobody wanted to believe that it happened. I don't want to believe that it happened. The only thing I could do was pray at that point. Pray that we made it out with our lives."
However, officer Lukas Sajak said today "there's nothing in the investigation that would lead us to believe that they were targeted" [because they are gay].
"A robbery, it could've happened anywhere," added Sajak. "It's a crime of opportunity.  Officers diligently patrol the area."
Police have as yet not identified any suspects.