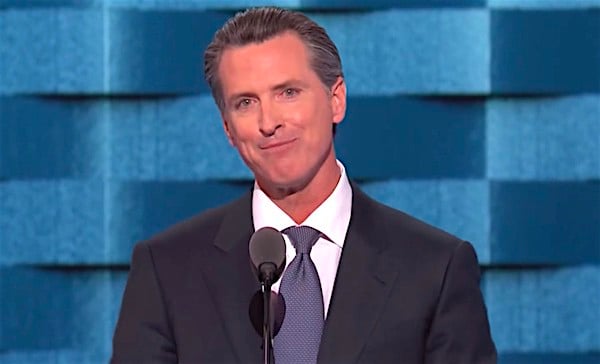 California Lt. Governor Gavin Newsom, who has been speaking his mind as of late about the Republican Party and the support it has shown for gay conversion therapy in its platform, went after Trump's running mate Mike Pence on Wednesday night at the DNC.
Newsom used his appearance on stage to point out that Pence hoped to divert AIDS funding to programs supporting gay conversion therapy.
Said Newsom:
While it's refreshing to finally see an openly gay man speak at a Republican convention, it doesn't remove the stain of selecting Mike Pence, America's most anti-LGBTQ governor. Pence supported overt discrimination and even advocated diverting taxpayer dollars to so-called "conversion therapy." That's not "praying away the gay;" it's emotional torture against our most innocent citizens, our children. Telling them that to live, they must lie. About who they are, and who they love. That's fundamentally un-American. The age-old choice has never been more clear: We can live our fears or live our dreams.
Hillary Clinton has dedicated her life to putting the American Dream within reach. She believes in diversity over division. The hard work of pluralism over the "illusion of differences."
And as a father of four, I want to say something to all the children who are watching and listening at home. When you hear people say that you and your family don't matter because of who you are, or where you came from, or what you look like, or who you love, I want you to know one thing: The people in this room, and all across the country, believe that you matter.
Watch: