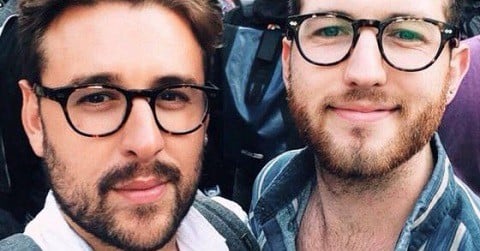 A gay couple were left "stunned and shaking" after a security guard in a London supermarket accused them of "touching and behaving inappropriately."
32-year-old Thomas Rees (above left) was shopping in Sainsbury's in Hackney on Monday when he and his boyfriend Josh (above right) were "beckoned over" by the security guard. In 2014, a Sainsbury's in Brighton, England apologized after a security guard asked a lesbian couple to leave the store following complaints from other customers.
To the bigot who complained about my bf & I holdin hands & the security guard at @sainsburys who felt the need to 'talk' to us outside🖕🏻

— Thomas Rees (@_thomasrees) August 8, 2016
Buzzfeed reports:
"My boyfriend and I became aware we were being watched," Rees said. "We were holding hands, arms around each other's waists, basically showing public displays of affection.
"As we came to pay for our shopping I noticed a security guard watching us. Once we had paid, he then approached us and asked us to follow him outside."
Rees said the security guard told them a customer had complained about the couple. The guard said that while he "was brought up to believe in live and let live", he had to tell them the customer had said they were touching and behaving inappropriately.
while i'm tolerant of gays, please understand not everybody finds it aesthetically pleasing to see men holding hands/hugging

— Londontown Investor (@LondontownMoney) August 10, 2016
Rees said he did not witness the complaint being made and was "stunned and shaking". "I just don't understand why he needed to take us outside and why he needed to tell us," he said.
"There was no sense of humility. I refuse to believe this would have happened to a heterosexual couple – we just stared in disbelief. The issue here is it felt like like 1960s Britain."
Rees says he now feels uncomfortable shopping at the store and feels the guard acted inappropriately in deciding to pull the couple aside. "The sad thing is there are multiple situations when Josh and I are holding hands and I'm the first to push him away," he said, "but I felt safe surrounded by my community and I was oblivious and unguarded."
Just got to London & saw this poster #LondonIsOpen – except to gays at Hackney @sainsburys it seems @doganddinosaur pic.twitter.com/J8Fc3nnYPs

— Rachel Biggs (@RachelBiggs) August 11, 2016
Sainsbury's has since offered a £10 gift card by way of apology. However, Rees said he felt the gesture was not enough and Sainsbury's should instead ensure all staff are properly trained in diversity.
(Image via Twitter)