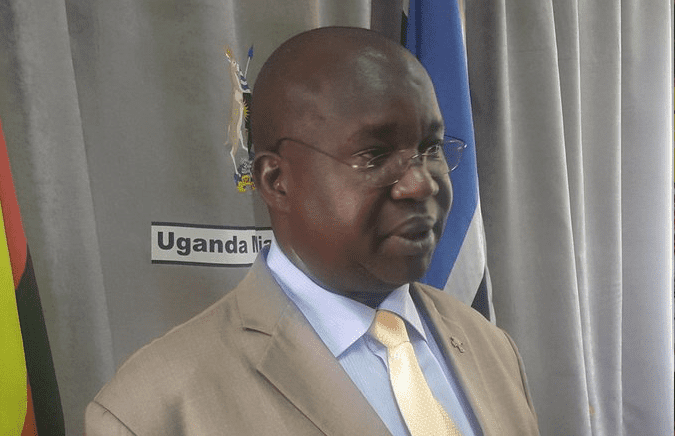 Days after police violently raided a gay Pride event in Uganda, the nation's ethics minister on Monday announced a new government-sanctioned "ex-gay" therapy program.
"A program to rehabilitate members of the LGBT Community, with the ultimate aim of giving them a chance to lead normal lives again, has been developed," Ethics Minister Simon Lokodo said in a statement posted by the Uganda Media Center.
Lokodo, a former Catholic priest, didn't provide specifics of the program, but in the meantime he vowed to continue to crack down on LGBT gatherings.
Police in Uganda, one of 36 African countries where gay sex is illegal, arrested more than a dozen people, including prominent LGBT activists, during the Mr. and Miss Pride Uganda 2016 at Venom Club in Kabalaggala last week. The following day, organizers canceled a Pride parade scheduled for Saturday after Lokodo reportedly threatened to put together a police-led mob to assault participants.
On Monday, Lokodo told reporters that the government "will continue to suppress" the public activities of homosexuals, the Associated Press reports. He also alleged that Pride activities are being organized "with the influence of some foreign forces."
We as Ugandans wanted to celebrate who we are and it has nothing to do with "foreign forces" @frankmugisha @Opimva https://t.co/MRyZPajLgY

— Sexual Minorities Uganda | SMUG (@SMUG2004) August 8, 2016
Despite Lokodo's statement, gay activist Frank Mugisha, who was among those arrested in the raid, said the LGBT community will continue to organize public gatherings:
Minister Lokodo says, LGBT Ugandans can hold private events & I am saying we shall hold any events public or private like any Ugandan

— Dr. Frank Mugisha (@frankmugisha) August 8, 2016
More from the AP:
In 2009, a Ugandan lawmaker introduced a bill that prescribed the death penalty for some homosexual acts, saying he wanted to protect Ugandan children. The proposed bill prompted international condemnation, and a less severe version passed by lawmakers was rejected by a court as unconstitutional.
Read Lokodo's full statement here.