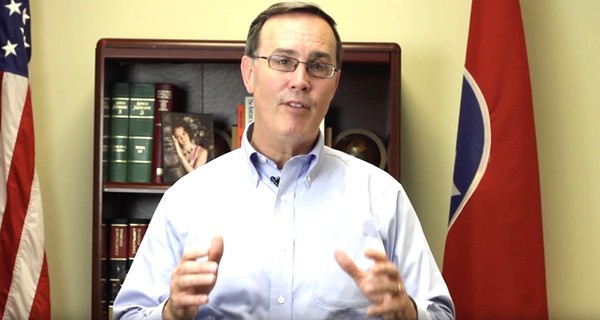 The Family Action Council of Tennessee (FACT) is representing 53 Republican legislators who are trying to intervene in a gay couple's divorce because they're still trying to fight the Supreme Court ruling that legalized same-sex marriage nationwide.
Sabrina Renae Witt and Erica Christine Witt are two married Knoxville women who are involved in a child custody battle.
The motion contends the legislators' "unique and substantial interest in the legislative power and process will be impeded, impaired, and/or nullified" if courts interpret a state law "to apply to any persons other than a man and woman joined together as 'husband' and 'wife.' "
Knox County Circuit Court Judge Greg McMillan ruled in June that Erica Witt has no legal rights under Tennessee law to involvement with a daughter born to Sabrina Witt through artificial insemination, as reported by the News Sentinel at the time. The couple were legally married in Washington, D.C., in April 2014, when same-sex marriage was prohibited in Tennessee. There is still no state law on the books authorizing same-sex marriages, but they were validated by a U.S. Supreme Court ruling last year.
The motion appears basically to endorse the position taken by McMillan in his ruling. The judge decided — as argued by Erica Witt's attorney — that the relevant Tennessee statute dealing with parenting rights in cases of artificial insemination speaks only to "husbands" of the birth mother and does not cover the mother's same-sex spouse.
FACT's executive director David Fowler who is leading the charge, is pretty much the state's biggest anti-gay bigot.
In 2013, he argued that same-sex marriage needed to be stopped to protect children from humiliation.
He has been battling the Supreme Court's Obergefell ruling since it was handed down. In January, Fowler said that if states had used his legal strategy in the 1950s, they could have avoided complying with the U.S. Supreme Court's ruling desegregating public schools in Brown v. Board of Education.
He filed two lawsuits in separate counties to try and prevent Tennessee from complying with the ruling.
Now he seems to be continuing his battle, but on the other side of the equation, by limiting divorce to opposite sex couples.
Said Fowler in a news release quoted by The Tennessean:
"[The 53 GOP lawmakers] are defending the will of the people. They understand the importance of this case constitutionally. This is not a case involving the policy that should be applicable in situations such as this. Rather, this case involves a very important constitutional question: Does the U.S. Supreme Court's Obergefell decision authorize judges to determine for state legislative bodies what policies it must have relative to custody issues in divorce proceedings? If it does, then matters of family law, which have historically been within the constitutional powers of the states to determine, will have essentially been judicially taken from the states and placed in the hands of federal judges."