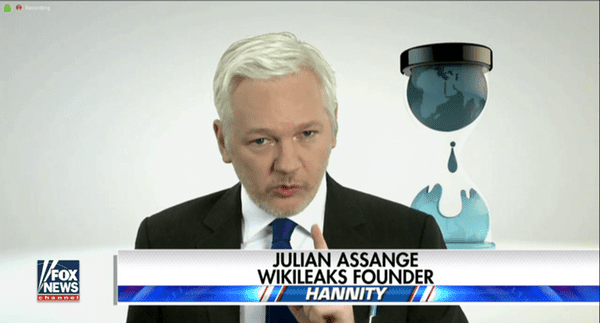 WikiLeaks founder Julian Assange says he may release new private or personal documents intended to disparage Hillary Clinton as early as next week.
You'll recall that WikiLeaks was behind the data dump of internal DNC emails that implicated party leadership as being against Bernie Sanders and led to the ouster of DNC Chairwoman Debbie Wasserman Schultz.
Assange told FOX News' Sean Hannity on Tuesday, "The first batch is reasonably soon. We are quite confident about it now. We might put out some teasers as early as next week or the week after."
Assange would not speculate on what the data dump will contain specifically but that there will be multiple batches of  leaks.
Hannity lauded Assange for exposing what he called corruption at the highest levels of the US government.
When Hannity posed a question about how WikiLeaks accounts for violating innocent peoples' privacy, Assange responded by saying, "We specialize in bringing the first amendment to the world."
Assange also insisted that Hillary Clinton lied when she told the FBI she didn't know that "(c)" marking on emails sent to her during her tenure at the State Department meant that information included in that email was classified.
"It's incredible for Clinton to lie about not knowing what (the marking) is," Assange said. "And it's a little bit disturbing (FBI Director) James Comey is along with that game."